Ron Gordon
Director – Power Systems
SAP HANA is the in-memory database for distributed and converged implementations.  Today, SAP HANA is a distributed database and will support Business Warehouse 7.4 (BW), as well as additional suites, such as ERP 6.0 EHP7, SRM 7.0 EHP3, CRM 7.0 EHP7, BI Java 7.40 for SAP HANA, which are coming soon.   On Power Systems, the required operating system today is SUSE Linux Enterprise Server 11 which provides the technical foundation for running any supported SAP component and stage on IBM Power Systems. SLES 11 SP4, which fully exploits POWER8 capabilities, is the current minimum pre-requisite.
When choosing SLES 11, there are a couple of options that are sometimes overlooked.   SLES 11 is a full Linux distribution at standard Power Systems pricing, and it optionally includes the High Availability Extensions.  SLES HAE allows fully automated high availability cluster operations, with minimum RPO and RTO for mission critical environments. To accomplish this high degree of cluster reliability and automation, HAE makes use of application specific Resource Agents.
The specific Resource Agents supporting HANA System Replication are NOT part of the SLES HAE Extension, but can only be obtained by using SLES 11 for SAP Applications. This is important for all customers who rely on SLES HAE as their cluster automation around SAP HANA System Replication.  The SLES 11 for SAP Applications has a different order number and also a different price.
This table shows what is in SLES 11 and SLES 11 for SAP applications: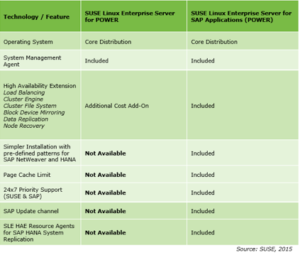 For many customers, SLES 11 "standard" will be used for development and test, while SLES for SAP Applications will be used for production, which is mainly driven by the HAE resource agents and the priority support (which is included in SLES for SAP Applications)
This table presents the differences between standard support and priority support from SUSE: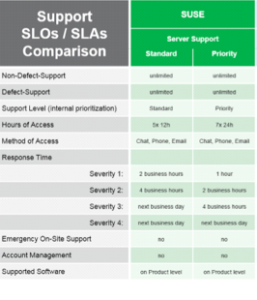 If you would like more information, please contact Mainline at www.mainline.com or 850-219-5000.  You can also contact me at ron.gordon@mainline.com