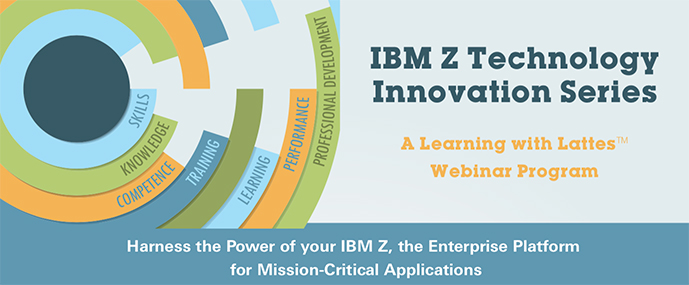 IBM Z brings data privacy, security, and resiliency to your hybrid multicloud environment.
Join us for our annual IBM Z Technology Innovation Series.
Learn about new enablement technologies and how you can maximize value from your IBM Z platform.
Invest in yourself! Explore the possibilities!
Attend 3 sessions and receive our Innovation Gift Pack as our thanks!
Tuesday, October 6th
IBM Z and Red Hat
Red Hat's OpenShift container platform on Linux on IBM Z and LinuxOne provides greater portability and agility through integrated tooling and a feature-rich ecosystem for cloud native development. IBM Cloud Paks, enterprise-ready, containerized software solutions, work in conjunction with OpenShift to provide a faster more secure way to move core business applications to the cloud. Join this session to learn how to modernize your IBM Z environment with Red Hat on IBM Z.
Speaker: Paul Novak, IBM, IBM Z Linux Virtualization & Cloud
12:00 PM ET
Wednesday, September 9th
z/OS Container Extensions (zCX)
One of the most exciting additions to z/OS in the last year has been the ability to run Linux on z applications in a z/OS started task. This capability is called z/OS Container Extensions (zCX). This talk will introduce zCX, share some use cases, discuss the value, cover requirements, and explain how to get started.
Speaker: Gary Puchkoff, IBM, System Z Senior Technical Staff Member
Tuesday, July 14th
z/OS Connect
Learn how to use z/OS Connect to consume data and services hosted on IBM Z and speed application development with RESTful APIs.
Speaker: Jeff Broderick, Z Systems Architect
Wednesday, June 10th
Introducing the new IBM z15 T02
Offering single-core performance increases of 14% when compared to the z14 ZR1, this highly granular and scalable system supports a wide range of both traditional and new workloads. Learn about the architecture, security enhancements, on-chip compression acceleration and more.
Speakers: Dave Burke, Z Systems Engineer, and Brian Grondin, Z Systems Technical Support Engineer