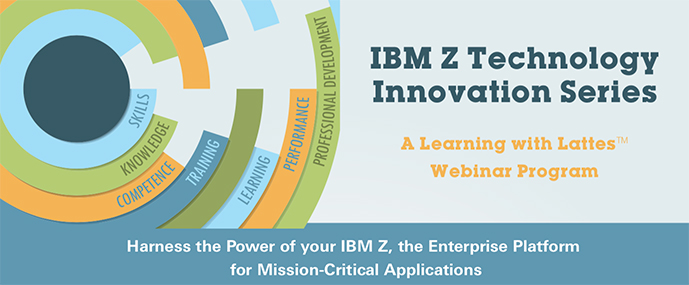 IBM Z brings data privacy, security, and resiliency to your hybrid multicloud environment.
Join us for our annual IBM Z Technology Innovation Series.
Learn about new enablement technologies and how you can maximize value from your IBM Z platform.
Invest in yourself! Explore the possibilities!
Attend 3 sessions and receive our Innovation Gift Pack as our thanks!
Wednesday, September 9th
z/OS Container Extensions (zCX)
One of the most exciting additions to z/OS in the last year has been the ability to run Linux on z applications in a z/OS started task. This capability is called z/OS Container Extensions (zCX). This talk will introduce zCX, share some use cases, discuss the value, cover requirements, and explain how to get started.
Speaker: Gary Puchkoff, IBM, System Z Senior Technical Staff Member
12:00 PM ET
Tuesday, October 6th
IBM Z and Red Hat
Red Hat's OpenShift container platform on Linux on IBM Z and LinuxOne provides greater portability and agility through integrated tooling and a feature-rich ecosystem for cloud native development. IBM Cloud Paks, enterprise-ready, containerized software solutions, work in conjunction with OpenShift to provide a faster more secure way to move core business applications to the cloud. Join this session to learn how to modernize your IBM Z environment with Red Hat on IBM Z.
Speaker: Paul Novak, IBM, IBM Z Linux Virtualization & Cloud
12:00 PM ET
Tuesday, July 14th
z/OS Connect
Learn how to use z/OS Connect to consume data and services hosted on IBM Z and speed application development with RESTful APIs.
Speaker: Jeff Broderick, Z Systems Architect
12:00 PM ET
Wednesday, June 10th
Introducing the new IBM z15 T02
Offering single-core performance increases of 14% when compared to the z14 ZR1, this highly granular and scalable system supports a wide range of both traditional and new workloads. Learn about the architecture, security enhancements, on-chip compression acceleration and more.
Speakers: Dave Burke, Z Systems Engineer, and Brian Grondin, Z Systems Technical Support Engineer

Tuesday, August 11th
Ansible Usage for State and Local Government, and Education
Distilling the lessons of automation from state and local government and education organizations that have deployed Ansible in their organizations, we share an ideal method of applying universal automation principles within IT organizations. We will share outcomes of what can be accomplished when using an automation tool that is simple, powerful, and universal featuring a State Government Department of Transportation that reduced unplanned outages, increased the speed and accuracy of every day administrative tasks, and orchestrated complex tasks enabling single- click automation.
2:00 PM ET
Tuesday, August 4th
Introduction to Ansible
As IT departments continue to see increasing responsibility within state and local government and education organizations, the inclusion of more automation is crucial to help them deliver on the commitments required of them in all areas of their workload ranging from Networking, to operating systems, to deploying workloads in Private or Public Clouds. Mainline Information Systems Solution Architect Ian Wright will share how Ansible's agentless architecture is a perfect fit with an IT framework. This will allow for IT departments to have quality, agility, and speed in delivering their workloads and services to the rest of the organization.
2:00 PM ET
Tuesday, July 28th
OpenShift Usage for State & Local Government and Education
We'll share how a large local county government has leveraged OpenShift to build with scale focused on security at every level of the container stack. To achieve their goal of increasing situational awareness and enabling better decisions to ensure public safety is priority one, the country leveraged OpenShift to automate infrastructure scaling, increase speed and accuracy of portal changes and updates, and increased portal availability.
Tuesday, July 21st
Introduction to Containers & OpenShift
These days containerization and cloud are two of the most common buzzwords in the data center. Mainline's Mainline Information Systems Solution Architect, Ian Wright, will explain the basic concepts of containers and how they relate to "the cloud" and share how Red Hat's OpenShift Container Platform can be used to deploy, automate and manage your organization's data center. With increased concerns about security risks during times of crisis, we'll share how Red Hat OpenShift is focused on security at every level of the container stack and throughout the application lifecycle. It includes long-term, enterprise support from one of the leading Kubernetes contributors and open source software companies.