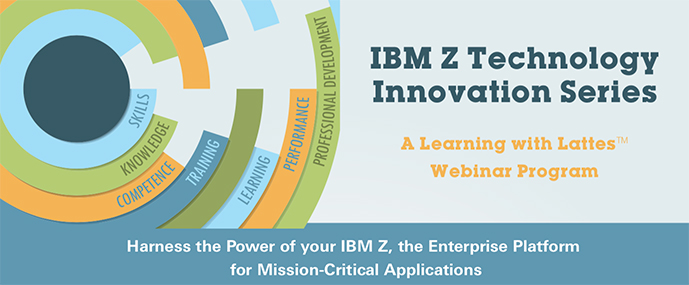 IBM Z brings data privacy, security, and resiliency to your hybrid multicloud environment.
Join us for our annual IBM Z Technology Innovation Series.
Learn about new enablement technologies and how you can maximize value from your IBM Z platform.
Invest in yourself! Explore the possibilities!
Attend 3 sessions and receive our Innovation Gift Pack as our thanks!
Wednesday, June 10th
Introducing the new IBM z15 T02
Offering single-core performance increases of 14% when compared to the z14 ZR1, this highly granular and scalable system supports a wide range of both traditional and new workloads. Learn about the architecture, security enhancements, on-chip compression acceleration and more.
Speakers: Dave Burke, Z Systems Engineer, and Brian Grondin, Z Systems Technical Support Engineer
12:00 PM ET
Tuesday, July 14th
z/OS Connect
Learn how to use z/OS Connect to consume data and services hosted on IBM Z and speed application development with RESTful APIs.
Speaker: Jeff Broderick, Z Systems Architect
12:00 PM ET
Wednesday, September 9th
z/OS Container Extensions (zCX)
One of the most exciting additions to z/OS in the last year has been the ability to run Linux on z applications in a z/OS started task. This capability is called z/OS Container Extensions (zCX). This talk will introduce zCX, share some use cases, discuss the value, cover requirements, and explain how to get started.
Speaker: Gary Puchkoff, IBM, System Z Senior Technical Staff Member
12:00 PM ET
Tuesday, October 6th
IBM Z and Red Hat
Red Hat's OpenShift container platform on Linux on IBM Z and LinuxOne provides greater portability and agility through integrated tooling and a feature-rich ecosystem for cloud native development. IBM Cloud Paks, enterprise-ready, containerized software solutions, work in conjunction with OpenShift to provide a faster more secure way to move core business applications to the cloud. Join this session to learn how to modernize your IBM Z environment with Red Hat on IBM Z.
Speaker: Paul Novak, IBM, IBM Z Linux Virtualization & Cloud
12:00 PM ET
Thursday, June 18, 2020
Webinar: Your Data's Doubling, But Your Budget Isn't.
IBM & Komprise: Data Management for the new era
In these unprecedented times, one thing is certain: the continued growth of unstructured data and the rising costs to manage it. The key to cutting costs is understanding your data across your storage silos to make the right decisions. With an analytics-driven approach to data management, you can move your cold data to less expensive storage, which significantly lowers the cost of both storage, back-up, and DR replication.
See how customers are saving over 70% with IBM and Komprise! During a live demo, we'll show you a new way to manage your data and save.
Know your data to make the right moves. Free Data Assessment.
8am PDT | 11am EDT