Transforming Data Centers with Hyperconverged Systems
Hyperconverged infrastructure is a way of simplifying the data center environment. Companies are looking for ways to reduce the number of vendors on which they rely. Multi-vendor environments are difficult to support, and it can be hard to figure out which vendor is responsible for solving any given problem.
In hyperconverged, every resource group in the data center is virtualized: storage, compute, memory, and networking. Hyperconverged uses infrastructure building blocks that contain each one of these resource groups. Support for every aspect of the data center is provided by a single vendor.
Hyperconverged is a software-defined infrastructure that decouples applications from hardware. For this reason, hyperconverged can serve as an on-premises transition to the cloud. When companies use hybrid cloud, the on-site component tends to be hyperconverged.
If an organization is thinking about moving to the cloud but isn't sure when or how, hyperconverged offers a private cloud-like environment that puts the company a drag and a drop away from moving to hybrid cloud.
Rethink Your Data Center with Hyperconverged Infrastructure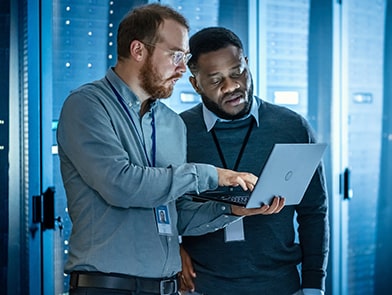 Pioneers in Hyperconverged
Mainline was an early proponent of hyperconverged infrastructure. We have been partners with VMware and Nutanix since each company's start. IBM Hyperconverged Systems powered by Nutanix is a great addition to our wide range of best fit HCI solutions, including backup and recovery for HCI environments.
When customers come to Mainline interested in hyperconverged, we take a consultative approach to overall data center optimization. Before presenting options, we sit down with the customer to discuss who they are and what they do. The Mainline team then presents a customized value set with steps the company needs to take to lay the groundwork for data center transformation.
During the consultation, we revisit hyperconverged as an option, whether it becomes an endpoint or a stage in the process of change. Mainline supports our customers through the entire lifecycle of their hyperconverged solution, from implementation to post-migration support.
Talk with a Mainline Hyperconverged Expert
Find out if hyperconverged infrastructure is right for your company.