Container technology has fundamentally altered the development of software in today's information technology environment. Who hasn't heard about containers in the IT world? Nearly all of us have, and the containerized architecture represents a move forward. Many of our Mainline customers have large install bases utilizing IBM MQ software. These are very good candidates to make the move to containers via IBM Cloud Paks.
IBM Cloud Pak for Integration brings IBM's well-known integration solutions including MQ Advanced, App Connect Enterprise, API Connect, Data Power Virtual, IBM Event Streams, and Aspera File Transfer software into a single, unified solution where you can start small and grow.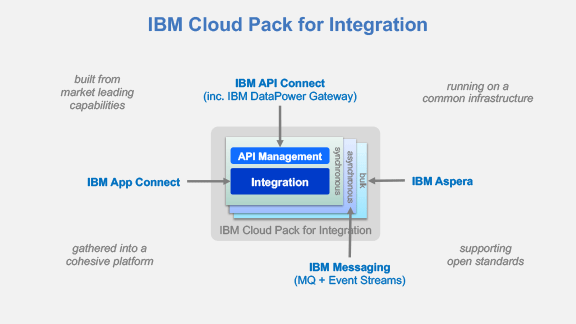 Use Cases for IBM Cloud Pak for Integration
IBM Cloud Pak for Integration has a number of use cases. This is just a small sampling of customer-driven use cases that Mainline has supported to perform tasks including sending real-time alerts, delivering personalized promotions, and offering location-based deals.
Customer Care Respond to events in real-time – Utilizes Events + MQ
Mobile Deliver responsive location-based customer experience – Utilizes API Management + App Integration + Events
Supply Chain Integration Utilizes API Management + App Integration + Events
High Speed File Transfer Utilizes Aspera
IBM Cloud Paks: Offering Unmatched Scalability and Flexibility
All IBM Cloud Paks utilize Red Hat OpenShift, a leading hybrid cloud, and enterprise Kubernetes application platform which work together to provide unmatched scalability and resiliency. Cloud Paks are trusted by 1,700+ organizations and growing rapidly.
You can start with one or a few capabilities and grow your environment as needed. Like all of the IBM Cloud Paks, the solution is designed for a flexible deployment option and it is container-ready (it comes with IBM Cloud Private foundation included at no cost), allowing you, the customer, to test or deploy the solution on containers when ready. This flexibility allows for a cost-effective transition that addresses the complexities associated with the evolving multi-cloud environment. IBM Cloud Paks avoid vendor lock-in, as they are deployable to any private or public cloud such as IBM Cloud, Amazon Web Services (AWS), Microsoft Azure, Google Cloud Platform (GCP), and VMWare.
You can purchase the Cloud Paks as net new or via a trade-up, typically done by licensing for the number of Virtual Processor Cores (VPCs). The trade-up allows customers to turn in older integration products and move to the new IBM Cloud Paks.
More Information
To learn more about IBM Cloud Pak solutions, please contact your Mainline Account Executive directly or click here to contact us with any questions.
You may be interested in:
ICP4I IBM General Information
Webinar Replay: Exploring IBM Cloud Paks 45:57 min
App Modernization and Containers
Bundled Programs:
IBM App Connect Enterprise
IBM API Connect Enterprise
IBM Datapower Gateway Virtual Edition
IBM Datapower Gateway Virtual Edition Non-Production
IBM MQ Advanced
IBM MQ Advanced High Availability Replication
IBM Event Streams
IBM Aspera High Speed Transfer Server
IBM MQ