Modernization & Containers
Containers offer unprecedented agility for applications. Once an application is containerized, it is portable. The development team can move it from a development location in the cloud to a production environment on-premises or in the cloud, providing cost and provisioning efficiencies.
While it's easy to see the benefits of app modernization using containers, it may not be clear how to move an established application into a container. We can help your business transform from its legacy state into a more agile, elastic and highly available modernized, digital business.
Modernizing Mainframe DevOps using OSS
How Mainline Helps with Modernization and Containers
Mainline offers app containerization and modernization expertise, including Open Source container technology like Kubernetes. Mainline can help your company with assessment, consultation, and implementation of modern containerized applications.
Our team can assess your application code and give you an MRI-like view of the health and readiness of your code for modernization.
From your assessment, you'll receive insights such as:
Cloud readiness
Demos and proof of concept
Risk factors, including:

Security concerns
Open Source risk
Data protection
Based on the results of your code analysis, we can help you build a roadmap for migration to app modernization. We'll lend you our expertise in Open Source solutions, data security, and multi-cloud environments.
With our support, you can develop a Day 2 plan for your application after deployment, addressing your most critical security and migration risks, for a smooth and successful transition to a containerized, multi-cloud environment.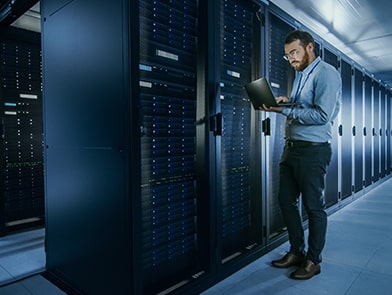 See Our Blog
"Container Storage – The Use and Benefit of Persistent Storage in Your Data Center"
Find out if your company's applications need to be modernized.