HPE GreenLake Hybrid Cloud
HPE GreenLake Hybrid Cloud is an as-a-service offering that delivers on-demand capacity and planning, combining the agility and economics of public cloud with the security and performance of on-premises IT.
A consumption-based IT solution, HPE GreenLake is allowing companies to gain flexibility, increase control, and lower their TCO. Usage is metered so you pay for only what you consume, whether it's compute, storage or VMs.
HPE GreenLake Hybrid Cloud is a managed service that is tailored to meet your needs to help with security, governance, compliance, performance, cost control, and operational scale.
The result?
Mainline and HPE can help you to get the most out of the cloud, and gain the speed and innovation without high costs, steep learning curve, and unintended risks that many customers experience today.
With HPE GreenLake, you benefit from one experience, which hides the diverse tools, platforms, processes and skills needed to operate efficiently in a multicloud world.
Consume and Operate IT as a Service (ITaaS)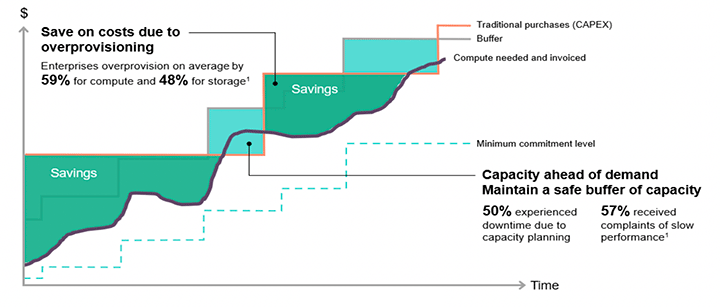 Pay only for metered capacity
that you use and eliminate
the cost of overprovisioning
Experience the best of both worlds
Outcome-based IT consumption delivers a range of benefits that you can't get from solutions solely built from scratch or bought from the public cloud. Delivering the best of both worlds, HPE GreenLake enables:
Faster time to value with solutions that are ready quickly and evolve ahead of your needs
Better economics with a flexible, pay-per-use model that offers simplicity and financial clarity
On-premises for proper control over compliance, performance, and security
Simplified IT that's operated for you to free up resources and add business value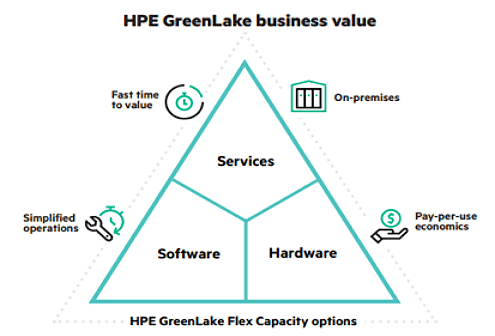 Take the intelligent route with consumption-based storage

Steer your business smarter with AI-driven HPE storage and the consumption-based economics of HPE Greenlake Flex Capacity to get the agility of cloud with the control of an on-premises solution.
Would you like to consult with
a Mainline HPE expert regarding Greenlake
Submit My Briefing Application
Begin your journey. Fill out the simple form below.