J Jeffrey Broderick
z Systems Architect
The IBM DB2 Analytics Accelerator (IDAA) has been a disruptive technology since it was introduced to the analytics space. An appliance, with its deep and seamless integrations with the premier relational database – DB2 for zOS – has been dramatically changing and re-defining analytics.
By leveraging DB2 for zOS, the IDAA makes it dramatically easier to bring analytic components closer to the core operational data – which also reduces unnecessary complexity, simplifies implementations, insures robust security governance and improves data quality.
With DB2 for zOS as the core relational data repository, existing OnLine Transaction Processing (OLTP) data can be easily converged with OnLine Analytics Processing (OLAP) data and data from other batch processes. The IDAA Loader utility provides a convenient means of extracting and loading data from multiple disparate data sources into the appliance.
Traditional savings models, like MSU savings, are not as applicable in the value analysis of an IDAA. Although a high volume of existing, complex, long-running queries can be dramatically accelerated—hours into minutes—and they are no longer being executed on traditional "general purpose" engines, this does not directly translate into MSU savings by "off-loading" queries. What frequently occurs, is that the end users now recognize that they can submit and receive significantly more complex queries with very unprecedented turnaround times (latent demand).
Organizations need to closely examine the amount of resources that are being consumed simply to provide an isolated, or standalone, data warehousing repository.
Major factors to review:
Are data tables being restructured primarily to provide performance for end-user queries?
What is the DBA effort when columns or tables are added to the production table(s) and now need to be included in the warehouse?
How much effort is required to maintain existing Extract Transform and Load (ETL) processes (DBA resources)?
How much processing is consumed to execute all ETL processes over the course of one month?
Are existing ETL processes providing data in a timely manner for analysis?

Is the value/cost associated with the timeliness of the warehouse?

How much specialized hardware is required to support the existing data warehousing environment?

Make sure that you include all servers, storage and network equipment required for all warehousing configurations.
Include the various development, test, production, training and other warehousing environments.
Make sure you factor in a company-consistent refresh cycle for the hardware reserved for data warehousing.
When the hardware can be re-deployed, there are immediate cost savings to be realized for the warehousing eco-system that should now be charged to a different project area.
When the hardware cannot be re-deployed, then the hardware architecture for the warehousing eco-system is extremely specialized and difficult (expensive) to expand.
What costs are associated with any growth to the various warehousing environments?
When one must add new storage to a development warehouse, how much additional storage is required to replicate that capability across the remaining eco-system?
What is the value to your end-users and business when long running complex queries can now be serviced in minutes, as opposed to hours?
What value can you associate with near real-time analytics?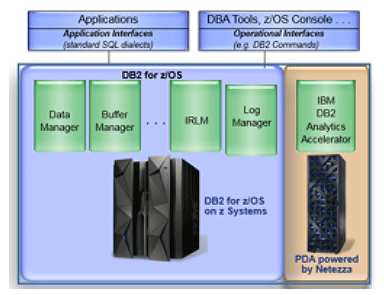 As one can deduce, there is a wide array of cost-benefit items to evaluate, as it relates to an IDAA and the analytics capabilities that can be accessible. One should not readily look for labor savings, rather the intrinsic values associate with a single, high-speed, enterprise analytics solution, with near real-time capabilities. When leveraging the "Loader," data sources from throughout the enterprise can now be combined into a cohesive analytics solution.
The value proposition for the IDAA has far more to do with delivering outstanding analytics performance and power to an organization's business units than to a traditional "MIPs" or MSU cost justification.
Delivering near real-time analytics results, along with the capability to access historical/archived data seamlessly, without impacting existing OLTP workloads, with minimal IT resource overhead, contributes to substantial value for today's agile organizations.
Please contact your Mainline Account Executive directly, or click here to contact us with any questions.