The IBM z System (IBM Z) has been the mainstay of mainframe computing, and is the lineal descendant of the original System/360 introduced in the 1960's. As a proven zero-downtime computing platform, IBM System z has supported massive online transaction applications, along with massive volumes of business and mainframe data. With IBM Z being primarily a general purpose computing platform, until recently, specialized processing like analytics were often executed elsewhere. As part of a recent announcement of IBM products, the latest introduction of the IBM Db2 Analytics Accelerator for zOS (IDAA) debuted. This makes the analytics compute facility part of the overall IBM Z ecosystem, supporting Big Data initiatives and near real-time business analytics.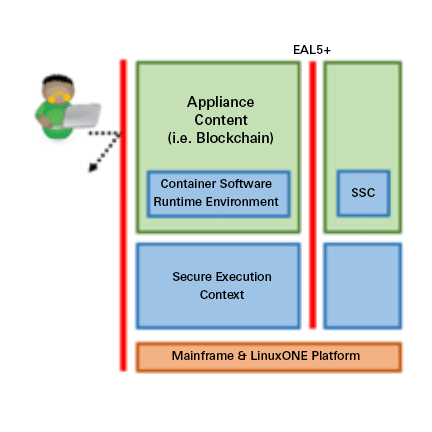 As recently announced, the accelerator can now be deployed onto the Z platform, leveraging IFL processors. Secure Service Container (SSC) Framework is used as the infrastructure to build, deploy and manage the Accelerator environment on IFL's. There is no need for zVM operating system or Linux on System z licenses as part of the Accelerator software licensing model. The appliances built using SSC reside in their own partition.
SSC provides for a simplified mechanism for installation, deployment and management of the software packages. SSC also supplies tamper protection during the installation process, as well as facilitates code and data security while at rest or inflight. SSC enables the appliance software to be delivered via distribution channels.
Once the appliance image is built, OS access (ssh) is not possible.
Separate appliance instances are isolated.
Access is via Remote API's only.
Access to memory is prohibited.
Any disk storage is encrypted.
Insuring that the appliance image cannot be modified or tampered with, is of significant value to maintaining the integrity of the analytics environment.
Leveraging the SSC for the IFL environment also greatly simplifies the resources and effort required to install and manage an accelerator environment.
By implementing an accelerator on IFLs within an IBM Z frame, the entire computing ecosystem is simplified. IFLs for the accelerator must be dedicated to the accelerator partition, but other IFLs could also be leveraged for additional analytics software.
The latest version of the IBM Db2 Analytics Accelerator brings the technology into a single ecosystem—providing outstanding reliability, performance and stability to the entire workload.
Please contact your Mainline Account Executive directly, or click here to contact us with any questions.