Diana Wozniak-Flack
Director of Service Delivery
Although the benefits are numerous of IBM Spectrum Protect are numerous, this posting focuses on one that is universally embraced by Mainline clients; Spectrum Protect for Virtual Environments. Today, the majority of server workload resides on some type of Virtual Platform – mainly VMWare or Hyper V.
Spectrum Protect for Virtual Environments allows you to consolidate backup workloads to a centralized platform under centralized backup policies and retentions. It allows Virtual Machine Administrators to restore virtual machines from a central location. Additionally, conventional backup windows and times can now be eliminated.
The Spectrum Protect for Virtual Environments enhancements are in the following categories:
Simple VMware Backups and Restores. An intuitive interface that you can access from within VMware vCenter or a self-service restore portal.
Multiple Copy and Recovery Options. You can now perform data recovery at the file level, mailbox level, database object level, volume or VM image level. All of these recovery options are provided from a single backup of a VMware image.
Integrate VMware Snapshots and OpenStack Clouds. If you have virtual machines that require more backups than normal, or virtual machines that require shorter backup windows, this feature provides that ability.
Reduce Your Data Protection Costs. Periodic full backups are NO LONGER required for VMware and Hyper-V. Spectrum Protect for Virtual Environments integrates with VMware snapshots and hardware-based snapshots, to provide instant restore capabilities for larger virtual machine platforms.
Complete Virtual Machine Recovery. With Spectrum Protect for Virtual Environments, you are not forced to use separate products for Virtual Machine restorations. The entire virtualized environment is recovered. Operating System, applications, data, patches, upgrades and custom configurations are all restored, significantly reducing your virtual machine recovery time.
The installation and configuration of Spectrum Protect for Virtual Environments is completed by utilizing both your Spectrum Protect administrator and your virtual machine administrator. Mainline Information Systems has extensive experience in implementing Spectrum Protect for Virtual Environments, in both large and small installations. Our implementation programs allow you to quickly define your environment and begin virtual machine backups almost immediately.
Save money with Data De-Duplication
Upgrade to Spectrum Protect 7.1.6 and take advantage of Spectrum
Protect's new in-line Data De-Duplication capability. Reduce your Spectrum
Protect foot print and reduce your total cost of ownership.
For a limited time only, receive a free Spectrum Protect Health Check..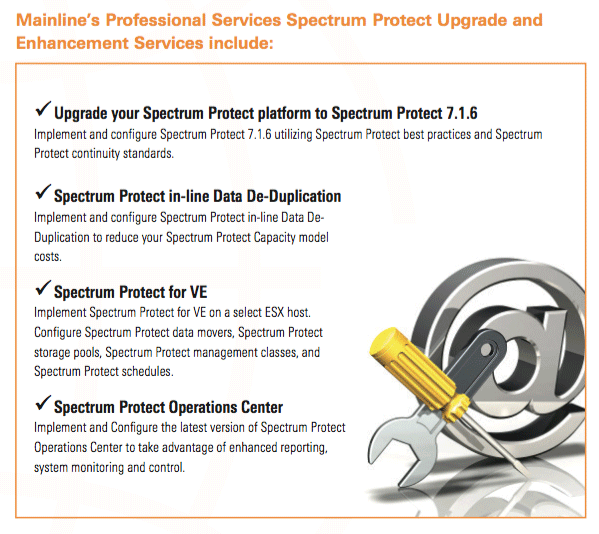 Please contact your Mainline Account Executive directly, or click here to contact us with any questions.