Nicolas Simon
Solutions Architect
Dell's Midrange Storage flagship just got a major upgrade with industry-leading sync technology. This is a game changer for IT departments, since making data consistently available to your constituents is a constant struggle. As business needs evolve and become more complex, the requirements for business continuity, data protection, and disaster recovery become all the more essential.
Traditionally, higher-end midrange and large enterprise storage solutions have offered some type of replication to a distant sister storage array in the event of a primary device failure. The ability to recover quickly (RTO: Recover Time Objective) and reduce critical data loss (RPO: Recovery Point Objective) is calculated in minutes or hours depending on the type of replication. This could fall into three categories:
Asynchronous (ASYNC) where data is written at the secondary device with a delay.
Synchronous (SYNC) where data is written on both primary and secondary devices simultaneously.
Metro Synchronous where data is written on both devices at the same time and is available to both primary and secondary hosts simultaneously.
Based on business and, in some cases, regulatory requirements you need to choose your replication technology carefully.

To address customers' business continuity challenges, Dell Technologies just released PowerStore metro node, leveraging its industry-leading VPLEX software on Dell's own PowerEdge servers.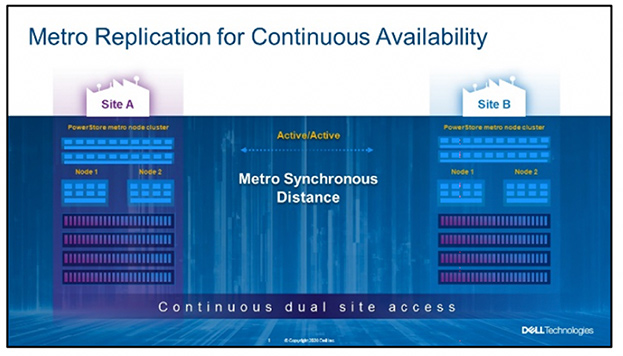 What is Dell EMC PowerStore Metro Node?
Metro node is a true active/active synchronous replication solution that allows customers to gain an RTO and RPO of zero, which means no downtime and no data loss in case of an adverse data center event.
Metro node is a 2U Cluster made of two 1U nodes, located on each primary and secondary site and connected directly to the PowerStore nodes via high-speed 32Gbps Fibre Channel links. WAN link requirement between clusters is less than 10ms latency (metro distance).
The metro node management interface is meant to be super simple to administer and offers HTML5, GUI, CLI, and automation through Ansible integration points. It takes less than an hour to configure a metro node cluster and is handled by a Dell certified onsite or remote engineer.
Metro node also includes a cluster witness – a separate virtual machine utilized for event monitoring to avoid split-brain situations.
In addition, metro node functionality improves data mobility to allow customers to non-disruptively move workloads or refresh their storage without downtime.
What is Dell EMC PowerStore Metro Node?
Are you wondering what sets metro node apart from competitive products? Quite a lot, actually.
Active/Active Most competitors have active/passive solutions.
Replication overhead Metro node runs on its own hardware and does not impact the PowerStore performance in any way.
Volume/LUN-level granularity for replication The customer can decide which workloads require replication.
Consistency Groups Metro node supports adding or deleting consistency groups without interrupting ongoing replication, which increases flexibility and eliminates downtime.
Distributed virtual volumes Metro node allows for hosts to access both sites simultaneously which improves data access and performance.
Failback Immediate failback (after recovery from disaster) is possible without waiting for the primary site volume to resync.
Host Software Metro node is self-contained and does not require any software on the hosts.
In summary
If your business requires its data to be continuously available without suffering data center outages and critical data loss and without breaking the bank, then PowerStore metro node is a great solution for you. It ensures business continuity with automatic failover and is designed for easy administration—all at an incredibly competitive price point.
If you are interested in hearing more about Dell EMC metro node, Mainline is here to help. We are an award-winning, Titanium Dell Technologies partner, the highest partnership level in the Dell Technologies Partner Program. Our certified team of engineers and architects has deep industry expertise and helps our customers select and architect the best technology for their business continuity needs. For more information, please contact your Mainline Account Executive directly, or contact us
here.
Related Articles:
Learn About our Partnership with Dell Technologies
BLOG: Advantages of Dell EMC PowerProtect DD
BLOG: Dell EMC PowerProtect DD: A Cloud-Enabled Solution