J Jeffrey Broderick
z Systems Architect
Infrastructure software continues to increase in complexity, features and functions. The adoption and continued deployment of these technologies, throughout the enterprise, continue to tax the resources responsible for maintaining and supporting those same technologies.
The exploitation of autonomics and machine learning significantly enhances the capabilities to reduce costs, improve responsiveness, and improve the accuracy of real-world database processing.
The evolution of autonomics, especially with Db2, help to transition from a "passive" approach to an "active" approach. Individual components, when combined, can collaborate to provide a synergistic solution.
The current Db2 autonomics are focused on reorg management, automated storage management and the automation of RUNSTATS.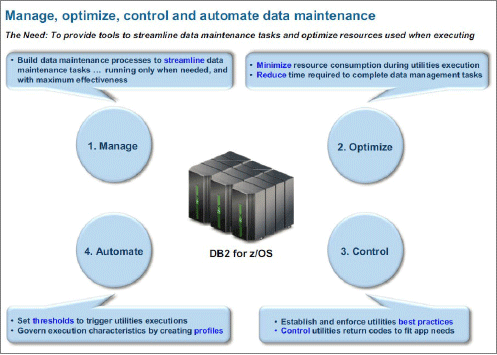 The key components of the total solution for Db2 autonomics consist of the following offerings, available as Solution Packs:
IBM Db2 Utilities Solution Pack for zOS v4.2 (5697-US4)
Autonomics Director for Db2 for zOS v1.6.
Db2 Automation Tool v4.3
Db2 Sort v2.1
Db2 HP Unload v5.1
Db2 Recovery Expert v3.2
Db2 Utilities Enhancement Tool v2.2
Or
IBM Db2 Backup and Recovery Solution Pack for zOS v1.1 (5655-BR1)
Autonomics Director for Db2 for zOS v1.6
Db2 Automation Tool v4.3
Db2 Recovery Expert v3.2
The "Autonomics Director for zOS" (Db2) helps facilitate autonomics via a standardized, single interface – the IBM Management Console for IMS and Db2. The Autonomics Director assists with the generation of JCL "actions" for the backup, reorganization and other maintenance tasks, significantly reducing the effort needed for DBA's to create, manage, schedule, coordinate and test comparable JCL streams.
Defining the "Maintenance Window," within the Director, allows the Director to generate and perform these various "actions," based on priorities and scheduling requirements. It leverages stored procedures to collect and manage real-time and historical data to maximize the execution of the utility jobs, during the maintenance window.
Even though the autonomics capabilities are currently primarily focused on database reorg times, along with automatic storage and when to initiate new RUNSTATS, these capabilities assist with the transition to self-management of Db2. Shops with a commitment to Db2 for operational and analytical data, should seriously consider implementing autonomics capabilities for their Db2 environment—providing enhanced management along with simplified support requirements for the DBA resources.
Please contact your Mainline Account Executive directly, or click here to contact us with any questions.