Networking, Automation, Microservices, & More
The network is at the core of the new data center infrastructure transformation. Companies must modernize their networks in order to optimize their data centers.
New systems such as hyperconverged, containerization, microservices, and massively parallel systems are driving the need for higher-speed data center networks such as 25G, 40G, and 100G. Automation is at the core of our new frontier, and using new architectures such as Spine and Leaf is paramount.
Find Out How to Modernize Your Data Center Network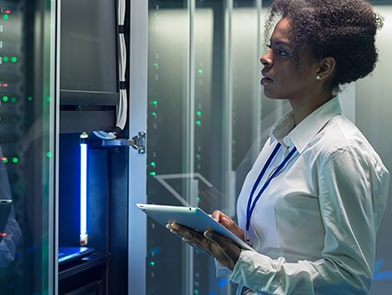 How to Meet Today's IT Networking Challenges
As companies increasingly move their data centers to the cloud, new pathways need to be found for sending data back and forth to create elasticity. High-speed, low-latency networks are the new norm to move applications and workloads to the right locations.
Data is coming into the data center at unprecedented speeds and volumes. The resources used to manage and store these huge data volumes can cause a traditional network to be the new bottleneck. Network bandwidth needs to be large enough to accommodate the data flow.
Organizations will need a network that allows them to be agile. Creating a highly automated capability is critical towards standing up new workloads quickly and dynamically. Newer data center networking architectures are allowing cloud-like agility, on premises.
This new paradigm involves large data transfers and near-instantaneous data travel in the network. The typical three-tier architecture is being replaced with Spine and Leaf designs. The key to this new architecture is remaining agile relative to the continuously changing needs of companies in big data industries with evolving data center needs.
When companies are concerned about protecting sensitive data, they may create cloud-like environments on-premises or even repatriate data back into the enterprise from the cloud. To be dynamic about moving workloads and scaling to meet accelerating data capacity requirements, businesses must support these cloud-like data centers with the right kind of networks.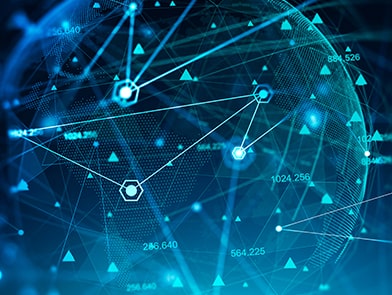 Modern IT Networking for the Data Center
The modern networking solutions Mainline provides accommodate automation and orchestration and meet the demands of new technologies, such as hyperconverged infrastructure, containers, microservices, as well as massively parallel compute and backup systems.
At Mainline, we have strategic relationships with leaders in risk management for networking, such as Juniper, Arista, Palo Alto, and Cisco. We provide underlying security for the network and satisfy the need to segment networks in order to control access to sensitive information.
Application owners want speed, agility, security, and responsiveness. These qualities aren't available in traditional data center architectures in which networking teams work separately from storage and compute teams. Mainline understands how all the aspects of the data center work together.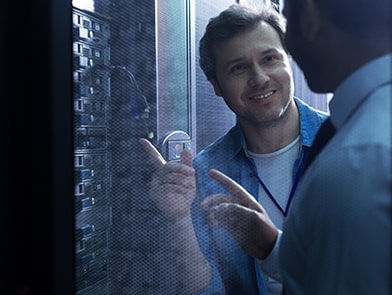 A Consultative Approach to IT Networking
At Mainline, we take a consultative approach to transforming data center networks. Our clients don't need to take on the research themselves. We can help compare offerings and recommend the best fit for the customer's requirements.
Mainline partners with leaders in networking and data center optimization, such as Cisco, Arista, Palo Alto, and Juniper. By partnering with the industry leaders, we help clients find the right mix of offerings for their networking needs.
Mainline team members have numerous certifications and years of experience with clients across many industries. Mainline has been in the data center business for 30+ years and we understand the evolution of the data center. We have maintained decades-long relationships with some of our clients and manufacturers and we are heavily invested in these relationships.
Our length, breadth, and depth of networking and data center experience means we understand the shifts in the industry. At Mainline, we know that it takes a lot of effort to get from the traditional 3-tier architecture to a modern cloud-like data center and we know how to get you there.
Talk with a Mainline Networking Expert
Learn how to transform your data center network.