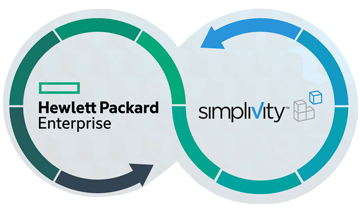 Bill Steins
Systems Engineering Manager
The x86 engineering community has never been more exciting since the mainstream acceptance of VMware, as an enterprise technology, which can run multiple workloads on a single x86 server. With Intel announcing its latest generation of processors, and flash disk becoming more affordable, the future of the x86 hasn't been brighter. Yet, even with these recent advances, it's Hyperconvergence that seems to be stealing the show.
For those of you new to this technology, Hyperconvergence (or HCI, Hyper Converged Infrastructure, as it is sometimes referred to) is a type of virtualization infrastructure with a software-centric architecture that tightly integrates compute, storage and networking resources on commodity hardware. Perhaps the greatest advantage to this architecture is that it allows the integrated technologies to be managed as a single system, through a common toolset.
While there are many companies offering Hyperconverged solutions, with more coming to the table on almost a daily basis, one of the leaders in this field recently attracted quite a bit of attention when Hewlett Packard Enterprises (HPE) acquired SimpliVity, in February of 2017. The marriage of these two companies blends SimpliVity's Hyperconverged software with one of the most respected hardware vendors in the industry. Coming right out of the gate, on the heels of its acquisition of SimpliVity, HPE announced its HPE Simplivity 380 with OmniStack. The packaging of the DL380 with SimpliVity's OmniStack software arguably deliver's one of the most powerful and flexible Hyperconverged platforms on the market.
On the hardware side, the HPE SimpliVity 380 is built on the DL380 server platform. The DL380 has been a mainstay sever in HPE's product line since the early days of dense server hardware architecture, and has been considered the gold standard, or benchmark, by which other 2U servers are compared. With configurations offering up to 44 cores, 1.4TB of RAM and 40TB of storage per node, the full potential to build a large, dense, enterprise-class infrastructure is quickly realized. But the "secret sauce" of the solution is the award-winning SimpliVity OmniStack software that propels the solution as a leader in a very competitive segment. The SimpliVity 380 is the only Hyperconverged solution that deduplicates, compresses and optimizes all data globally. It is also the only Hyperconverged technology that guarantees a 90% capacity savings across storage.
In addition to the basic features briefly discussed above, SimpliVity offers advanced features for disaster recovery, data replication, private and hybrid cloud solutions.
So, what does this all mean to the customer or end user? We sometimes find ourselves in situations where the limiting factor for successful implementation hinges on the amount of storage available within the cluster. All too many times, nodes have had to be added just to accommodate the 200TB to 300TB storage requirement of the solution. This has unfortunately left us, in many cases, where we've been core/processor heavy, which has not only added cost in hardware, but also in VMware licensing. With SimpliVity's guarantee to compress/deduplicate your data 90%, along with the incredible density of the 380's storage, chances are you'll find yourself able to take nodes out of your HCI solution and do more with less hardware, while reducing your overall costs.
If you're interested in having Mainline assist you in evaluating this or any other technology, please contact your Mainline Account Executive, or contact Mainline directly.