Ron Gordon
Director » Power Systems
It's been a while since I talked about the IBM software support on Power Systems, including what is new and changing.  Here, I will give you a high-level overview of the latest information regarding IBM Power Systems; the operating systems of AIX, Linux and IBM i; and related virtualization, cloud, and security updates. I know you will have questions and need more detailed information. For that, you can reach out directly to me or your Mainline representative on how these updates can relate to your business needs.
1. Power Enterprise Cloud Express is a new offering with new packaging of the IBM-enabled Cloud products used to create private or hybrid Clouds on IBM Power Systems.  See the chart below.  There are two versions… one with AIX and another with just the cloud software. AIX EE is not going away.  IBM wanted a way for customers to get all the components easily with a single, lower-priced part number.  The Power Enterprise Cloud Edition is not limited to AIX, as the product set will run on AIX, IBM i, and Linux… hence, the reason one of the versions does not contain an operating system.  In this version, the customer can implement on their existing operating system of AIX, IBM i or Linux, or they can bring their own Linux distribution of choice. Power Enterprise Cloud Express is priced by core.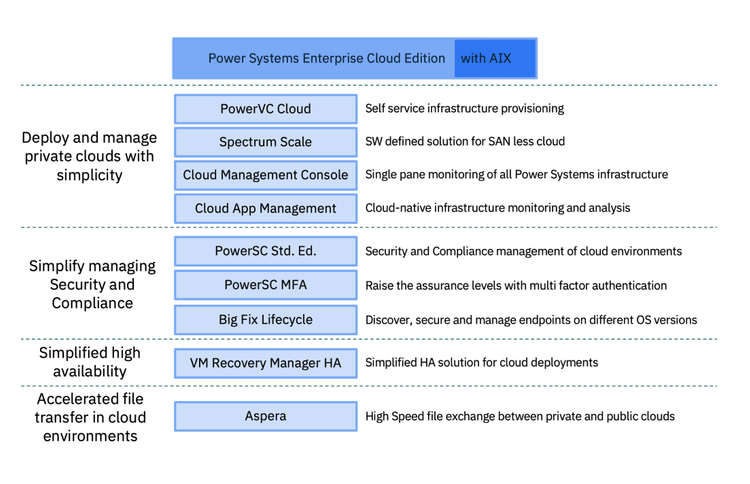 2. BigFix will no longer be an IBM product, but IBM will continue to include Big Fix Lifecycle in AIX EE. BigFix Lifecycle can help manage the compliance and updating of AIX, IBM i, and Linux.
3. IBM announced a subscription offering for the Power S922 model of IBM Power Systems on Jan 10. Based on customer-defined configurations of the S922 and choice of AIX or IBM i, the subscription offering is a pay-as-you-go model.  For Linux, the customer can implement the distribution of their choice. The S922 resides on customer premise, although it is entitled to IBM (i.e., the asset is owned by IBM).  The customer pays a fixed-base usage amount and is then billed monthly, based on usage above the base.  This is measured on processor utilization reports generated by the HMC and supplied to IBM. 
4. The rental of AIX can now be configured with the IBM econfig tool, by your Mainline representative… you can get a 3, 6, 12 or 36-month lease of AIX.  This AIX might be used with the S922 Subscription model for testing or as a swing system for software updates, migration, etc.  Also, this may be good for customer-created internal clouds, where you use AIX for only short periods of dev/test or production cycles.  The breakeven point varies, but it is about 28 months.
5. For IBM Power Systems using POWER5, POWER6 or POWER7 processors, the End of Support will be in 2019. If you want to move to a POWER8 or POWER9-based Power System, but you do not have PowerVM EE, which uses LPM for application migration, there is a 60-day trial usage of LPM, for no charge, that might help you. Note that POWER7+ systems (aka D models) do not have End of Support dates in 2019.
6. Njmon is now out.
7. See below for the EOS and EOSPS dates for AIX.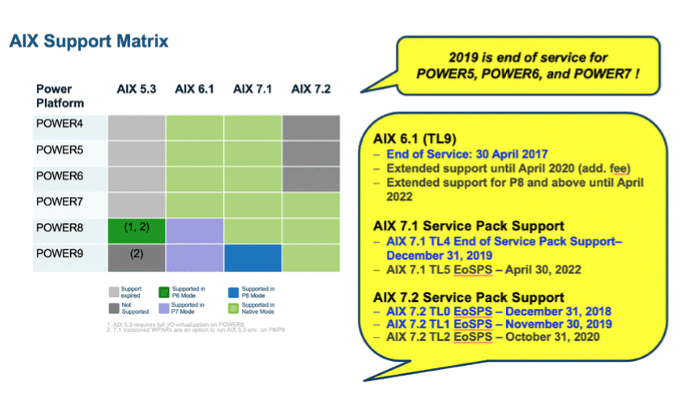 8. WPARs still exist.  Versioned WPARs do not, as they have been withdrawn.
9. IBM has placed a containers for AIX-enabled prototype in the AIX Tool Box.  It can use K8S or ICP, and it uses WPARS in the AIX partition. I will dive deeper into this topic in a future Blog.  Be aware that, at this time, this is not a supported environment and should be viewed as a sandbox.
10. At IBM Think in San Francisco, two public Cloud offerings supporting Power Systems with AIX and Linux (and future plans for IBM i) were presented.  These are pay-as-you-go offerings, similar to existing popular x86 offerings from Microsoft, Amazon and Google.  These offerings join SKYTAP with Power Systems for AIX commercial applications and NIMBIS with AC922s in the cloud for HPC solutions and testing.
11. PowerSC MFA now supports mobile phones, previously announced in October 2018, and increases the security capabilities for IBM Power Systems.
12. PowerVM now has compression and encryption on LPM, previously announced in October 2018. This provides secure data transmission, while on the wire, as well as much faster transfer times between IBM Power Systems.
13. PowerVC now supports KVM, previously announced in October 2018, which broadens the Power Cloud capabilities of Linux on systems focused primarily on Open Source systems.
14. Nothing on this line, but I did not want to end with 13 items … may be viewed as bad luck by any Triskaidekaphobics out there! The next Friday the 13th is September 2019, in case you were wondering.  
Please contact your Mainline Account Executive directly for additional information, or click here to contact us with any questions..
Check out this replay to learn about Power and AI: