Mainline Information Systems Wins IBM System Storage Competency Excellence Award at Think 2018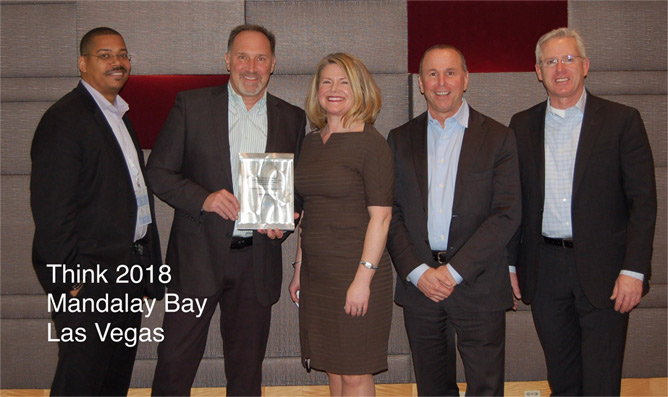 Mainline Demonstrates Commitment to Deliver Innovative IBM Storage Solutions to Clients
TALLAHASSEE, FL – March 21, 2018
Mainline Information Systems, a leading provider of IT solutions and services, has been selected as a winner of the IBM North America System Storage Competency Business Partner Sales Excellence Award Presented on March 20, 2018 at IBM Think in Las Vegas, NV, Mainline was selected for this distinguished award for their leadership and commitment to the IBM Storage Competency.
The IBM North America System Storage Competency Business Partner Sales Excellence Award recognizes one Business Partner within a North America sales region who has made significant commitments to the IBM Storage Competency offering. Each winner made significant investments in the capabilities that are essential for developing the expertise to deliver high-value solutions. As a result, each award winner achieved Competency Business Partner level in Storage Systems and Spectrum Software Defined Infrastructure solutions. Mainline's leadership and commitment to the Storage Competency and their superior teaming with their local IBM team helped to define Mainline as a Sales Excellence Award winner for 2018.
"Mainline has invested heavily in our storage practice, educating our engineers and architects, as well as our sales teams. This results in our ability to provide business critical storage solutions to our customers to help them increase effectiveness, improve data security and maximize return on investment. Our investment in the IBM Storage Competency offering reflects our continued commitment to our customers to deliver best of breed IT business solutions", said John McCarthy, Mainline President and CEO.
About Mainline Information Systems, Inc.
Mainline, headquartered in Tallahassee, FL, is an information technology solutions and IT consulting firm, serving clients across the United States and across industries. With over 400 IT professionals, Mainline acts as an independent advisor to find the best solutions for their clients' business needs. Mainline Information Systems has received multiple industry accolades, including IBM Beacon Awards, CRN Tech Elite 250, CRN MSP 500 Elite 150, and Florida Trends Best Company, and is accredited by the International Enterprise Architect Institute, Inc. (IEAI). The company may be reached by phone at 850.219.5000 and on the Internet at www.mainline.com.
Mainline Press Contact:
Kim Garner
850.219.5221
kim.garner@mainline.com
All company, brand or product names are registered trademarks or trademarks of their respective holders.