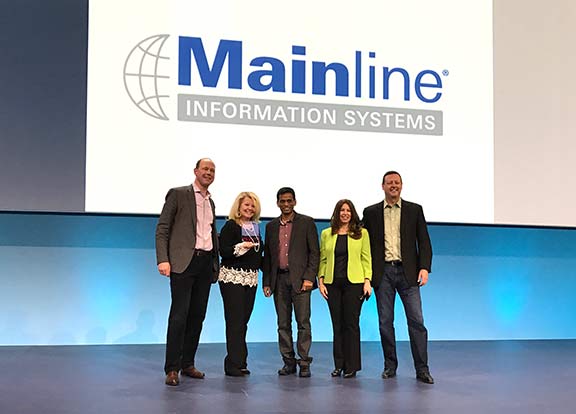 TALLAHASSEE, FL – Mainline Information Systems, a leading provider of IT solutions and services, has been selected as the winner of the IBM Security Outstanding Achievement in North America Award. Presented at IBM Interconnect in Las Vegas, Mainline was selected for this prestigious award for the design and delivery of a security solution built on IBM software that provides intrusion prevention, detection and response at an early stage.
"Mainline has invested heavily in an IT security practice to provide business critical solutions to our customers to help them ward off and respond to cyber threats. We are proud to have been chosen for this award above all other IBM partners in North America. It reflects our commitment to our customers to deliver best of breed business solutions", said John McCarthy, Mainline President and COO.
With the recent news reports of security threats and ransomware at several US-based organizations, Mainline architected and delivered an Intrusion Prevention, Detection and Response solution for a large healthcare client. "During our Security Control Review, we identified that the client not only had security gaps but they also needed a security intelligence solution for detecting and responding to incidents", said Rainer Barthel, Mainline Security Architect. "IBM XGS and IBM QRadar provided a platform for a comprehensive IPS and SIEM solution for this client. Early detection and response is key, when it comes to cybersecurity."
Mainline was also selected as a Finalist for the IBM Leadership Award for Application Infrastructure Leadership, based on an IBM integration software solution for a large retail client. Using IBM Websphere Application Server, IBM UrbanCode Deploy and IBM MQSeries, Mainline architected a disaster recovery solution for the client's mission critical DevOp environment.
"In our experience, most retail customers consider their commerce sites to be mission critical and therefore, having a strong disaster recovery approach for the software and infrastructure that supports the commerce sites is top priority. When new features are required nothing can stand in the way of development and deployment", said Jeff Dobbelaere, Mainline Vice President of Services. "We are thrilled to receive this award demonstrating the value that Mainline provides to our customers."
About Mainline Information Systems, Inc.
Mainline, headquartered in Tallahassee, FL, is an information technology solutions and IT consulting firm, and has more than 400 employees nationwide. Mainline Information Systems has received multiple industry accolades, including IBM Beacon Awards, IBM Innovation and Leadership Awards, CRN Tech Elite 250, and Florida Trends Best Company, and is accredited by the International Enterprise Architect Institute, Inc. (IEAI). The company may be reached by phone at 850.219.5000 and on the Internet at www.mainline.com.
Mainline Press Contact:
Kim Garner
850.219.5221
kim.garner@mainline.com
All company, brand or product names are registered trademarks or trademarks of their respective holders.