Mainline Information Systems Achieves Platinum Status in IBM PartnerWorld Program
IBM Platinum Partner Status Demonstrates Excellence in Delivering High Value Cloud and Cognitive Solutions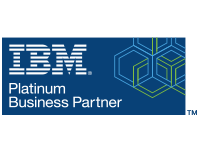 TALLAHASSEE, FL – Mainline Information Systems, a leading provider of IT solutions and services, has achieved Platinum status in IBM's new PartnerWorld program redesigned for the Cognitive era. Earning the highest tier within the PartnerWorld program, Platinum Business Partners consistently demonstrate proven capabilities and expertise in IBM technologies to help their clients succeed in their digital transformation.
"We are proud to achieve the IBM Platinum designation, as it reflects our commitment to our customers to deliver best of breed business solutions for the cognitive era", said John McCarthy, Mainline President and COO. "As an IBM Platinum Business Partner, we will benefit from the highest level of sales and enablement support from IBM, which in turn will enable us to deliver increased value to our customers."
IBM added the Platinum designation as part of the newly redesigned PartnerWorld program, which the company announced last February at the PartnerWorld Leadership Conference. The new, four-tiered PartnerWorld program moves IBM and its Business Partners from a product-centric model to one focused on competencies, customer satisfaction and revenue. The Platinum level is designed to recognize partners that consistently deliver the highest level of excellence. Organizations achieve the Platinum level by earning at least two competencies (one at the Expert level), attaining significant sales success, demonstrating client satisfaction and verifying two client references.
"The new PartnerWorld program is designed towards ultimate simplification to help our partners both large and small succeed and drive velocity in high growth areas like cloud and cognitive," said Marc Dupaquier, general manager, IBM Global Business Partners. "By achieving the Platinum level, Mainline has shown its commitment and expertise in delivering client solutions with the power to transform businesses in the cognitive era."
To learn more about IBM PartnerWorld, a comprehensive program that offers marketing and sales resources, training, certification and technical support to help create new revenue and market opportunities for IBM Business Partners, visit www.ibm.com/partnerworld/go.
About Mainline Information Systems, Inc.
Mainline, headquartered in Tallahassee, FL, is an information technology solutions and IT consulting firm, and has more than 500 employees nationwide. Mainline Information Systems has received multiple industry accolades, including IBM Beacon Awards, IBM Innovation and Leadership Awards, CRN Tech Elite 250, IBM Cognos Gold Accreditation, and Florida Trends Best Company, and is accredited by the International Enterprise Architect Institute, Inc. (IEAI). The company may be reached by phone at 850.219.5000 and on the Internet at www.mainline.com.
Mainline Press Contact:
Kim Garner
850.219.5221
kim.garner@mainline.com
All company, brand or product names are registered trademarks or trademarks of their respective holders.