Mainline Information Systems Wins 2016 IBM Beacon Award for Outstanding IBM Analytics Platform Solution
Consulting Division of Mainline Information Systems Garners IBM Beacon for Big Data Accelerator Categories
TALLAHASSEE, FL, USA – Mainline Information Systems was named winner of the 2016 IBM Beacon Award for Outstanding IBM Analytics Platform Solution for the Mainline Enterprise Digital Solutions (MEDS) Big Data Innovation Accelerator. In addition, the company was recognized by IBM as a Beacon Award Finalist for its innovative client solutions in the categories of Technical Vitality in Major Markets and Most Innovative Client Experience on z Systems.
Each year, IBM applauds select Business Partners who have demonstrated business excellence in delivering IBM-based solutions that drive value and transform the way clients and industries will do business in the future. This year's awards recognized Business Partner achievements across 24 award categories.
"We are honored to receive a Beacon Award for the MEDS Big Data Innovation Accelerator, a repeatable solution that allows small innovators to reap the advantages of IBM's powerful enterprise Big Data and Analytics platform," said John McCarthy, President and COO of Mainline Information Systems. "This product is a perfect example of how MEDS unites business acumen with technology expertise to develop solutions that incorporate IBM's market-leading social, security, mobile, analytics, and cloud components to deliver real business value."
MEDS Big Data Innovation Accelerator was developed for a client in the healthcare arena to provide a more robust analysis of disease registry data; apply machine learning analytics to improve ICD10 coding; use predictive analytics on unstructured data to optimize diagnoses; provide remote patient monitoring; enable better outcomes and customer service through smartphone apps and self-service; and support earlier healthcare intervention at a lower cost.
"MEDS Big Data Innovation Accelerator leverages the entire IBM Analytics stack, providing customers the information they need to quickly realize both a quantitative and qualitative return on their technology investment," elaborated McCarthy. "The MEDS team has built in the flexibility to swap technology components and substitute industry data sets, making the power of IBM Analytics available to small innovators in a variety of industries and verticals."
Beacon Award winners are selected by a panel of expert judges consisting of IBM executives, industry analysts and members of the press, and announced at the IBM PartnerWorld Leadership Conference in Orlando, Florida.
"The 2016 Beacon Award winners are Business Partners who have demonstrated the ability to transform how their industries do business through cognitive computing – delivering advanced solutions that enable clients to understand their businesses more deeply, predict the consequences of actions, and make better decisions," said Marc Dupaquier, general manager, IBM Global Business Partners. "We're pleased to recognize MEDS with a Beacon Award for Outstanding IBM Analytics Platform Solution for consistently delivering value to clients with innovative IBM technology."
To learn more about IBM PartnerWorld, a comprehensive program that offers marketing and sales resources, training, certification and technical support to help create new revenue and market opportunities for IBM Business Partners, visit http://www.ibm.com/partnerworld.
###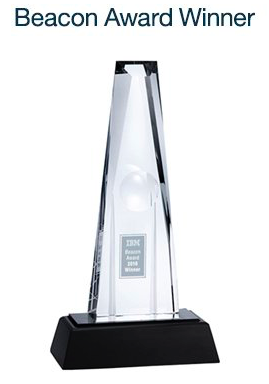 Mainline Press Contact:
Kim Garner
850.219.5221
kim.garner@mainline.com
All company, brand or product names are registered trademarks or trademarks of their respective holders.