Mainline Contributes to Employee-led Charitable Organizations
February 18th, 2014 – Tallahassee, FL
– What started out as a fun way to get to know employees better turned into a win-win for employees and the charities they support. Employees were invited to participate in a video contest showcasing their community involvement with winners being announced at Mainline's recent annual sales meeting.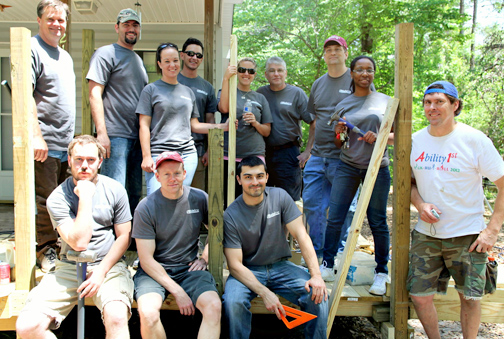 There were nearly 30 entries and the top prize was a $10,000 donation to the employee's charity. Second and third place was $5,000 and $3,000. The reward comes in the form of a monetary donation to the employee's charitable organization in the employee's name.
"We have a leader who leads by example, including the area of community service," said John McCarthy, president and chief operating officer for Mainline. "For several years, Mainline's founder and CEO, Rick Kearney, has been instrumental in the development of the Renaissance Center in Tallahassee, FL, and in the fight against homelessness. He has inspired us to recognize and reward employees who are giving back to communities in need."
At its annual sales kick-off meeting in January, Mainline employees voted on the top three videos. First place and second place were only one vote apart, so the employees agreed to split the first and second place prize. While not part of the original contest rules, all other employees who submitted a video received $500 donations to their charities.
"The tremendous impact that our employees are making in their communities made it really difficult to choose a winner. That said, after reviewing all the videos, we decided to award everyone who submitted a video $500 toward their charity. It was really amazing to see the scope of involvement that our employees have in their communities," said McCarthy. "It's an honor to recognize Mainline employees for their selflessness."
About Mainline Information Systems, Inc.
Mainline, headquartered in Tallahassee, Fla., is an information technology solutions and IT consulting firm and has more than 500 employees nationwide. Mainline has received many industry accolades, including VMware Global Desktop Virtualization Partner of the Year, Red Hat North American Partner of the Year, multiple IBM Leadership Awards and HP Specialist Partner designations. Mainline provides solutions throughout the United States, Puerto Rico and Brazil. The company may be reached by phone at 850-219-5000 and on the Internet at www.mainline.com.
Mainline Press Contact:
Kim Garner
850.219.5221
kim.garner@mainline.com
All company, brand or product names are registered trademarks or trademarks of their respective holders.