With the continued growth of unstructured data, more and more of our customers are challenged with how to store it and provide continuous access. Plus, they ask "How can you back it up? Or can you even back it up?" As we start to see the challenges that larger and larger data sets present in environments like machine learning and log analysis tools, we see an increased need for changes in storage architecture to accommodate unstructured data management. Object storage, with its ability to be accessed over industry-standard APIs and be geo-disbursed, can address some of these challenges.
NetApp StorageGRID: Object Storage Technology with a Proven Track Record
NetApp is a market leader in object-based storage. NetApp StorageGRID, formerly NetApp StorageGRID Webscale, is an 11th-generation object storage solution with a 15+ year track record of production deployments in the most demanding industries. Its dependability has been demonstrated with more than 1 million systems shipped and more than 20 years of product hardening. NetApp StorageGRID is a geo-distributed object storage system which stores, protects, and preserves fixed-content data over long periods of time. Using metadata-based information lifecycle management (ILM) rules, StorageGRID determines where data is stored, how it is protected, and how long it is stored.
Common Deployments/Use Cases
NetApp StorageGRID is useful in a wide variety of use cases and can help IT organizations efficiently scale storage capacity and data management across both on-premise and cloud storage, whether in the public cloud, private cloud, or hybrid cloud. The most common deployments we're seeing right now are for NetApp Fabric Pools, which allow "cold" blocks from NetApp ONTAP aggregates to be stored on StorageGRID but still be accessible to the applications through ONTAP. Instead of buying a large ONTAP array, customers can buy a smaller all-flash system and use StorageGRID to tier the cold data, keeping the flash storage for the most active data. StorageGRID can also be the Amazon Simple Storage Service (S3) target for cloud data management and data protection products including Rubrik, Cohesity, and other data center backup solutions, offloading long-term retention and archive data and providing cost savings on per-node software licensing.
Increasingly, object storage and S3 are becoming more of a primary storage option instead of a storage tier target. StorageGRID has a robust feature set of S3 support including bridging hybrid cloud workflows, granular ILM, quality of service options, and incredible configuration flexibility to meet virtually any SLA.
NetApp StorageGRID Release 11.4
Released in July of 2020, NetApp StorageGRID 11.4 continues to add key features.
Traffic Classification Policies – An enhancement to quality-of-service (QoS) offerings, traffic classification policies can identify and monitor different types of network traffic. You can then apply a policy to put limits on traffic based on bandwidth, the number of concurrent requests, or the request rate. What's really interesting is that you can combine traffic classification policies with capacity limits and data protection to enforce SLAs.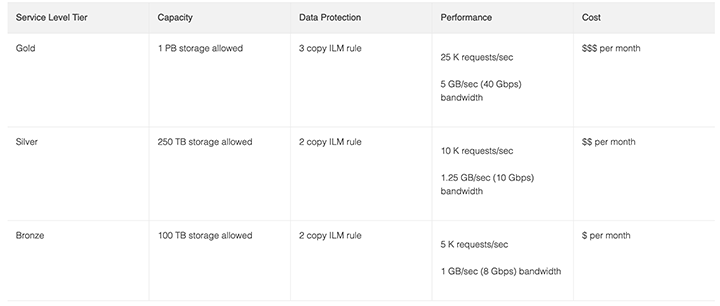 Support for 16TB Drives – All StorageGRID appliances now support 16TB drives, increasing the per-node capacity by 33% with the SG6060 dense node and two expansion drawers. That means > 2.8PB in a single node.
SG6060 Node Expansion Options – After upgrading to 11.4, existing customers can add disk expansion shelves to their 6060 nodes to increase node capacity (instead of adding new nodes). The disk drives can be different types per shelf. It's important to remember to plan for power, rack space, and cooling for the denser nodes.
Support for Erasure Coding 7+5 Scheme – Data durability and access to data are critical tenets in object storage solutions. Along with Dynamic Disk Pools (DDP) on the nodes themselves, in a three-site scenario, StorageGRID with the EC 7+5 setting can now be configured to protect against the loss of one site and a single storage node at a second site.
S3 REST API Enhancements – Many customers tell us that adherence to the S3 API is important to their application developers and users. With the 11.4 release, PUT, GET, and DELETE bucket tagging operations are now supported. In addition, AWS size limits for a multipart upload are now enforced. Each part in a multipart upload must be between 5MB and 5GB, excluding the final part, otherwise an alert will be triggered.
Other 11.4 enhancements include better error handling, enhanced patching workflows, and support for TLS 1.3.
More Information:
As a NetApp Star partner, Mainline delivers enterprise storage solutions that are efficient, reliable, and cost-effective. Our top-level partnership assures clients that we maintain the stringent Star partner certification requirements across the NetApp storage family of products, plus we are backed by a strong relationship with the NetApp team. For more information on how we can help you, contact your Mainline Account Representative directly, or reach out to us here with any questions.
Learn more about Enterprise Data Storage Solutions from Mainline.