Spot was founded by Amiram Shachar based on a graduate student project he designed to save companies significant amounts of money on their cloud computing costs while maintaining availability using automation. While Schachar never did finish his graduate degree, he grew the company to be the leading cloud compute management and cost optimization solution for public cloud services users, selling Spot to NetApp earlier this year for $450 million.
What made Spot so valuable? Its product portfolio helps customers with Day 2 cloud operations (CloudOps), giving them the capability to leverage the most efficient economics for their applications. It also follows a licensing model which is based around how much money the products save customers on cloud compute costs—which is on average 50-70%. NetApp clearly saw the opportunity for Spot to disrupt the marketplace and we're now excited to offer it as part of our portfolio at Mainline. Spot supports the major public cloud providers, including Amazon Web Services (AWS), Microsoft Azure, and Google Cloud.
Where Does Spot by NetApp Fit?
Spot by NetApp is a product suite which extends the concepts of Continuous Integration and Continuous Deployment to Continuous Optimization.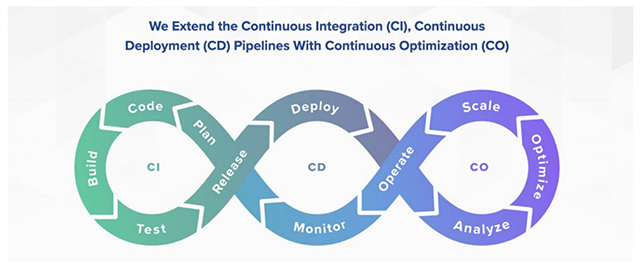 The Continuous Optimization cycle is powered by automation and includes three phases:
– Analyze consists of ongoing monitoring of an application, a set of VM, or storage in order to understand usage patterns, how it scales, and determine what types of cost optimization can be used.
– Optimize allows companies to dynamically adjust cloud infrastructure based on ongoing analysis. This includes procuring or selling capacity as well as changing instance types.
– Scale enables companies to right-size and cost optimize their capacity to deliver at scale.
Adding continuous optimization to the mix does away with the need for manual tweaks, ensuring that once an application gets deployed to the cloud the cost model and the infrastructure are optimized and right-sized for it every second the application is running. This frees up developers and engineers to work on functionality and business requirements.
Spot works with all the major public cloud services (AWS, Microsoft Azure, Google Cloud), constantly monitoring what types of cost optimization and market options are available. It helps with scaling of workloads by understanding where the application load will be in the future.
Cloud Purchasing Models
To understand the value Spot can bring to an organization, it is important to understand the major public cloud services purchasing models.
On Demand is often where organizations start. It allows you to scale up and down for variable demand. While it is the most expensive per-unit cost over time, it requires no commitment.
Reserved Capacity is more affordable per unit but a requires a commitment for future use.
Excess capacity, spot instances are the cheapest option, offering up to a 90% discount from On Demand pricing, but this is also the riskiest option. There is no SLA and the compute capacity can be taken away at any moment.
The goal of Spot is to never pay on-demand pricing again. Using a powerful portfolio of products, Spot dynamically adjusts cloud infrastructure to the most cost-optimized method for an application and intelligently uses opportunities like reserved capacity and spot instances to save money.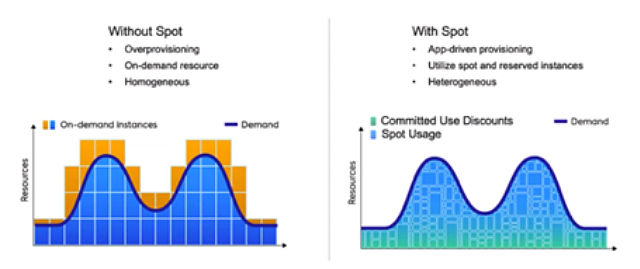 Spot by NetApp Portfolio
Cloud Analyzer is a cloud infrastructure management solution that uses advanced analytics to provide visibility and insights into your cloud costs, shows you where you can optimize those costs, and lets you implement that optimization using Spot's portfolio of continuous optimization products in just a few clicks. Cloud Analyzer provides efficiency scores which can direct you to better pricing models, especially using spot instance pricing with autoscaling applications.
Elastigroup (VM) and Ocean (Containers) provide workload optimization. Elastigroup is the heart of the Spot suite. It is an enhancement for auto-scaling based on a market prediction model. It can analyze congestion in spot instance markets and intelligently spin up on-demand capacity instances to ensure the application can continue to work without interruption. It can then move the workload back to spot instance capacity when the congestion clears. Ocean is for containerized workloads like those that run in Kubernetes. It can monitor container utilization and modify the environment for performance at the lowest cost. It can also scale and schedule pods.
Eco helps you manage commitments and is useful for applications that don't automatically scale. Eco provides intelligent Reserved Instance savings. It will analyze what workloads in your account are running for long periods of time and figure out what workloads are suited for an RI commitment. Eco can also exchange and alter RI commitments for you. This allows IT engineering teams to right size commitments automatically and, if there are instance or region changes, Eco will put unused reserve capacity back out into the Spot internal market for someone else to purchase.
Spot Storage is the newest addition to the Spot platform, with the combination of NetApp's Cloud Volumes technology. This is a fully managed block or file storage service that includes snapshots, backups, restores, intelligent tiering, and everything else from the NetApp platform. This allows for one "managed by Spot" architecture for compute and storage in the cloud. The application defines what kind of storage it needs and Spot will take care of the rest.
With Spot by NetApp, you can enjoy the best of both worlds—cost savings and availability.
More Information:
As a NetApp Star partner, Mainline delivers enterprise storage solutions that are efficient, reliable, and cost-effective. Our top-level partnership assures clients that we maintain the stringent Star partner certification requirements across the NetApp storage family of products, plus we are backed by a strong relationship with the NetApp team. For more information on how we can help you, contact your Mainline Account Representative directly, or reach out to us here with any questions.
You may be interested in:
BLOG: NetApp StorageGRID – Efficiently Scale Storage Capacity and Data Management Across On-Premise and Multi-Cloud Storage