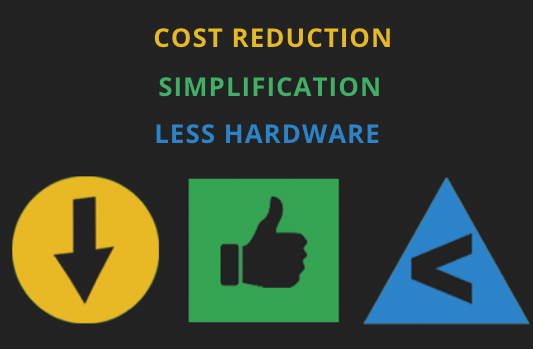 Cost-cutting initiatives are imperative today with our shaky economy.
In the information technology arena, the primary cost-cutting initiative is called "virtualization," and nearly every company is at least looking at virtualization, as a way to cut costs. The industry agrees it's a winning solution. But is it solving the problem?
Where to Virtualize?
The server farms keep growing and expanding beyond the data center floor capacity. There is an ever- increasing demand for more power and cooling. Companies are faced with building new data centers at a great expense. Other costs keep growing too, including hardware, software, and especially administrator costs.
VMware and x86 technology was the choice for many companies. VMware helped at first, but the hidden costs kept growing, and in some companies, it ultimately didn't prevent the need to expand to a new data center. Large projects emerged to handle hardware refresh. Software asset management became a major concern, to prevent vendor penalties. Searching for good administrators to maintain the complex environment continued to be a problem. Is there another option?
Yes, and it is still virtualization — this time consider Linux on z Systems.
Business Case for Linux on z Systems
In the past, companies compiled total cost of ownership (TCO) for each business application. TCO includes sunk costs (costs spent in prior years). Now, companies are moving to Total Cost of Acquisition (TCA), which represents the cash flow for today, as well as future year's expenditures.
When looking at TCAs for virtualizing a large number of servers, the key elements include:
Capital costs – hardware and software licenses
Annual hardware and software maintenance
Facilities power, cooling and floor space
Systems administration costs – the people
These key elements capture most of the significant costs in a multi-year business case. Comparison can be from any x86 Windows, UNIX or Linux platform. Target platform is Linux on z Systems or LInuxONE, where it is architected for 1 or multiples physical servers. The architecture depends more on availability requirements vs capacity, since the largest LinuxONE server can consolidate thousands of servers into a single physical LinuxONE server.
See an example of a $17 million dollar 5-year savings, which was consolidation of 435 WebSphere ND servers onto a Linux on z Systems platform.
For further information on developing a business case for your company, reach out to Marianne Eggett at marianne.eggett@mainline.com to learn how Linux on z Systems and LinuxONE can help your IT infrastructure.
For additional IT questions or concerns on other subjects, please contact your Mainline Account Executive directly, or click here to contact us with any questions.
Additional BLOGs: