The Netezza platform and tooling has evolved since IBM purchased the Netezza organization and started broadening both the functionality and architecture. Over the last year IBM has brought cloud deployment capabilities to the once appliance only platform and now is bridging further into the cloud with new capabilities that were once reserved for only cloud natively designed solutions.
As of November 23, 2021, IBM now has released SaaS distributions of Netezza Performance Server (NPS) in the cloud including Azure. Not that Netezza is overly complex to administrate, but often there are lessons to be learned and complexities when moving workloads to the cloud and this also mitigates complexities with upgrades and patching that took time and effort. The Netezza core is now enhanced with public cloud native functionality as well, bringing a more competitive product to market than ever before. In addition, by IBM offering a managed support option to customers it once again shows the adaptations needed to fully embrace the market demand.
Next Generation Netezza
In the past the Netezza platform was tightly coupled to the infrastructure platform including leveraging Field Programable Gate Arrays (FPGA) cores to capitalize on the linear high performance of the database over ever increasing data volumes. Increasing speed and agility within the high computing platform architectures and now available on the cloud has given IBM the ability to decouple the performance of the Netezza engine from the proprietary infrastructure and now allows for the platform to leverage a common SQL high performance engine across any deployment or hybrid thereof. From on-premises, appliance-based solutions to PaaS solutions on most major cloud providers and now to the SaaS option, IBM has created a high-performance enterprise data platform that meets the needs of the customer community.
In addition to the core architecture becoming agnostic of proprietary infrastructure IBM has also focused on evolving the database architecture and engine of Netezza in order to capitalize on the elasticity of the cloud. Many cloud database vendors claim elasticity, but as you dig into the details the granularity of this elasticity is not very fine. One must make a significant step up or down if expansion or contraction of the environment is required. In some vendor cases, certain steps also require hours of time to implement, which causes complexities in work stream planning and administration. IBM has integrated both fine grain elasticity on cloud Netezza offerings as well as pause and resume functions which have brought the Netezza Performance Server (NPS) to a state where it can compete with any similar cloud native platform. The fine grain elasticity is also a differentiator as customers can tune the platform to a much greater degree without oversizing or skimping on the processing and or performance necessary to accomplish a work stream.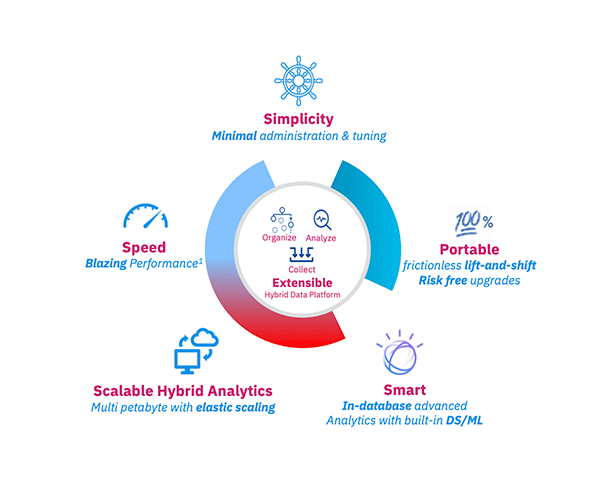 The NPS is Netezza at its core and has all the functionality to which customers are accustomed including INZA functions and the core NPS (Netezza Platform Software) and thus migration is a snap. Mainline customers have migrated to the NPS system in hours leveraging common tools such as nz_migrate. Those leveraging UDFs (User Defined Functions) on legacy Mako or Striper Netezzas will only need to recompile these functions as the new NPS architecture is 64 bit vs. the legacy 32 bit. For those migrating from an on-prem NPS, there are no recompilation or code changes necessary. The Netezza host has evolved and is now containerized, which is another step toward allowing the core functionality to truly become hybrid with components running on-premises while other workloads are shifted up to the cloud or off to other infrastructures. Performance has also received a boost through the replacement of legacy spinning disk with SSD drives. For those of you who lived through the significant disk failure rates on the spinning disk Striper & Twin Fin models, this will come as a welcome change for stability, not just processing speed. The NPS has all the strengths of the legacy Netezza solutions (Twin Fin, Striper and Mako) but has removed many of the weaknesses, largest of which was the lack of expandability without purchasing an additional appliance. Now with the ability to separate compute and storage this architectural challenge from the past has been completely mitigated. The containerization also gives customers more options around Disaster Recovery (DR) and cloning of environments, further mitigating risk of data loss.
Additional Value with Netezza Performance Server (NPS) & Cloud Pak for Data (CP4D)
The Netezza Performance Server (NPS) is a bundled architecture of software including the NPS core software and the appliance offering which also comes with a broad analytics and data processing capabilities, coupled with IBM Cloud Pak for Data (CP4D). The CP4D solution includes data collection, virtualization, refinement, governance, and advanced data analytics platform. The CP4D System is designed so that CP4D workloads do not affect the NPS processing or performance and vice versa. The CP4D is a containerized, hybrid cloud architecture where expanded processing needs can be met within the hyperconverged system, on another set of on-premises infrastructure, or on the cloud. All CP4D components as well as the NPS host are containerized, running on RedHat Linux (RHEL) and OpenShift. OpenShift brings a common orchestration layer and allows IBM to build more unified common functions such as administration, security, and logging. The bundling of the CP4D software and NPS achieves more than a Netezza could deliver. It allows end to end Data and AI processing capabilities in one platform. No other company or platform brings the breadth of functionality to one converged solution. With the hybrid cloud architecture of the NPS and CP4D for data processing and management coupled with flexibility of deployment, customers have the ultimate data solution. Customers can pick and choose which containers are most relevant to their data environment and then implement a wholistic solution based on one unified platform. With embedded containers and microservices for analytics, reporting, data governance, data fabric, data quality, integration, machine learning and much more, the platform is a foundation that organizations can use to make the most complex data ecosystem governed and producing high value information insights.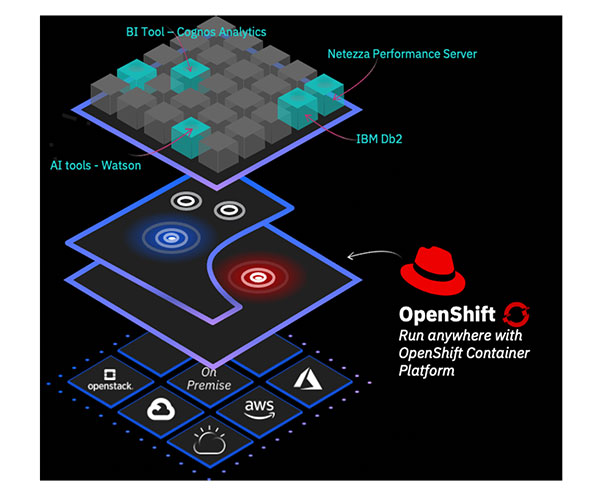 Business Success Stories
As with any newer solution in the IT market, organizations want to know if all the marketing is reality. "Does this really work?" Mainline has been working with numerous organizations across industry segments such as retail, banking, manufacturing, financial services, healthcare, research, and higher education. One customer has found that their workloads were highly volatile and the legacy on-prem data warehouse architectures of old just did not fit their need any longer. Mainline was able to propose a solution with the new NPS SaaS Solution on Azure Cloud that not only gave the customer the performance and features only found in the Netezza architecture but also a solution that is more flexible and less costly than their on premises solution support costs.
The customer's data processing needs prior to NPS on Azure had them locked into a vendor solution which was static and could not flex or adapt to meet the spikes in their business processing need. Their workload resembled the following diagram, where the legacy solution would be overtaxed for portions of the day (circled in red) and left data consumers frustrated with the slow performance. In other periods the workload was not utilizing the compute power of the on-premises solution and resulting in a waste of resources.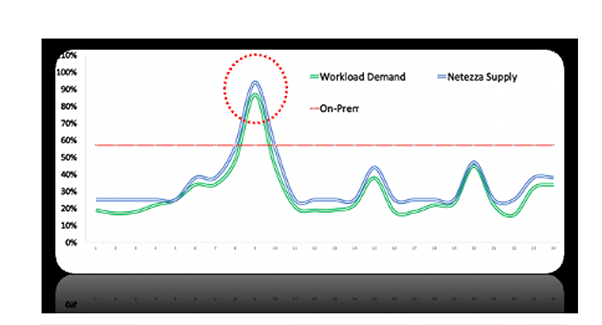 With the Azure SaaS NPS offering the workload can now be mirrored such that the supply and demand is much more closely aligned. The new solution allows for the organization to expand its processing to far exceed what was available on the legacy solution and thus the users now have a better experience. The real elegance of the solution is the ease of change and flexibility. As we know, the only constant in business is change. It is one thing to be able to adapt to the processing needs of today, but the SaaS NPS Azure cloud solution's monitoring capabilities provides foresight to capture and mitigate change to the processing needs and quickly adjust to future needs as well as those of today.
Summary
Mainline has a long history of creating innovative and cost-effective solutions for our customers. With the recent release of IBM Netezza Performance Server SaaS offering on Azure, Mainline has yet another tool in our solution portfolio to help enable customers who are looking for high performance analytics and data processing on the Azure cloud. With cloud native functionality such as pause and resume, elastic expansion, and contraction of compute and object storage the Netezza product is stronger than ever on the Azure cloud. In addition, the containerized hybrid design of the Netezza Performance Server platform gives customers the ultimate solution flexibility whether the data processing needs are on-premises, in the cloud, or a mixture of both. The Mainline Information and Analytics team understands the strengths and weaknesses of on-premises, cloud, and hybrid cloud architectures and can partner with your organization to create a solution that best suits your specific data strategy and needs.
More Information:
For more information on analytics, data modernization, and automation solutions contact your Mainline Account Executive directly or click here to contact us with any questions. Our experts can assist you with your digital transformation initiatives and help to improve customer experience and business outcomes.
You May Also Be Interested In:
BLOG: Data Management Using IBM Cloud Pak for Data and AI
BLOG: The Data Governance Corporate Marketplace
Webinar Replay: Evolving with Data and AI – Delivering Value and Efficiencies (46:00)