Introduction
In the previous blog about API Management, the features and functions expected of a mature API management product are explored. The purpose of this blog is to review CA's API Management product capabilities and features.
CA API Management
CA has a robust API management platform, as well as additional offerings, that allow enterprise stakeholders, including developers and enterprise architects, business managers and security professionals, to speed development while integrating, creating and securing APIs.
The picture below shows the key architectural components of CA API Management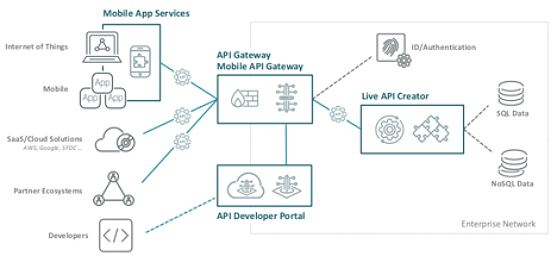 API Gateway
The CA API Gateway enables enterprises to selectively open data and applications to both internal and third-party developers. Here are some key features of the API gateway.
Security –Integrates with popular IAM system with support for OAuth, SAML and RADIUS. The gateway can be configured to be PCI-DSS compliant, and includes a built-in PKI engine, FIPS 140-2 level encryption and a robust RBAC system.
Performance and Scale – Deploys in a variety of form factors and can be easily scaled and deployed in a failover environment for high availability. The clustered architecture allows linear scalability across multiple gateways, with automatic failover.
Migration Support – Handles migrations across dev/test/production with global management tools, and integrates with enterprise BI, analytics, and reporting tools.
Form Factors – Are available in multiple form factors/deployment models with support for a wide range of platforms, including Docker, AWS and Azure.
Extensibility – Plug-in framework to add new transports and identity providers, as well as deep integration with enterprise management and BI products.
Developer Portal
The developer portal is a key component of the CA API Management that lets organizations quickly build and manage the APIs. It provides a single portal for communicating and managing the enterprise-wide API initiatives. Here are some of the key features.
Enterprise Portal – Allows each business unit in an organization to publish and manage its own APIs on a single, central portal.
Centralized Management – Supports both external and internal developer groups, and provides a self-service or a gated registration to support use and organization creation. It also supports SSO by integrating with enterprise IAM.
Operational Analytics – Measures API usage and tracks SLA adherence by tracking the latency times. It also integrates with enterprise BI tools to report of APIM data with the Metrics API.
Standards Support – Automatically creates interactive documentation from industry-standard WADL and Swagger files.
Other Offerings
Beyond the core components and tools provided as part of the API management platform, CA has other tools that simplify the API creation and management. Some of these tools are purpose built to address specific use cases and programming trends.
» Mobile Gateway
CA Mobile API Gateway exposes mobile backend services and enterprise assets as secure, scalable REST APIs. It enables the creation of mobile applications that consume enterprise data and integrate with cloud services. Here are some of the key features.
Security – Provides robust IAM through FIDO biometric integration, single sign-on (SSO), token exchange, social login, device registration and proximity login. Authorize access with enterprise identities across users, apps and devices.
Modernize legacy applications – Integrates mobile backend services, legacy infrastructure, enterprise data and third-party resources into scalable REST APIs built for mobile and Iota.
Speed – Improved application development with standards-based, open source SDKs and APIs, client-side libraries and documentation.
» Microgateway
With the increased adoption of the micrsoservices architecture, CA created Microgateway. It is a new form factor of the CA API Gateway that is more lightweight, containerized and purpose built specifically for microservices development. Here are some of its key features.
Container support – Microgateways can be deployed and managed as Docker containers, using industry-standard tools.
Quickstart Templates – Quickstart templates are provided out-of-the-box, with policies that address common microservice use cases.
Patterns – Supports common microservice patterns by providing service discovery, rate-limiting and security.
» Live API Creator
CA Live API Creator is a low-code solution to create APIs and microservices. It supports rapid creation of application back-ends for internal applications, mobile dev projects, standalone microservices, data as a service, IoT enablement and partner integration. Here are some of its key features.
Point and click framework – Supports rapid creation of APIs and microservices by creating new data schemas, integrating existing data sources and systems.
Reactive logic – Declarative, spreadsheet-like logic, operating in conjunction with extensible server-side JavaScript for easy business policy and security enforcement.
Support for Kafka and MQTT messaging – Easily publish MQTT or Kafka messages, and create subscription listeners.
» Conclusion and Next Steps
CA API Management platform and tools are industry leading technology. CA is recognized as a leader in this segment by various independent analysts. CA API management tools not only support the latest technology trends, but more importantly, it provides a bridge to modernize legacy applications and unlock the value of data and services in the existing systems.
For an in-depth technical view of the API Management tools and how they can be leveraged in your organization, please contact your Mainline Account Executive directly, or click here to contact us with any questions.