Are you using the post-lockdown world to move out of the status quo within your data center? How are you addressing complexity in the backup realm? Could you benefit from an appliance that handles all workloads, including container and cloud, open systems, and legacy data from Mainframe and IBM i Series? Talk about consolidation! Imagine, one platform for all your data and you can replicate it to add another layer of protection too. That's what Dell EMC PowerProtect DD delivers.
Dell EMC PowerProtect DD has been IDC's number one offering since IDC started tracking them. Additionally, it has been the number one purpose built backup appliance (PBBA) since its release. When Dell Technologies acquired EMC, they acquired many best-in-class products for their extensive enterprise portfolio, including the Dell EMC PowerProtect DD Series Appliances, a rock-solid offering that frees administrators from having to worry about data management and the complexities of backup and disaster recovery. It just works behind the scenes, day in and day out, allowing admins to focus on more pressing business needs and more data center modernization.
Dell EMC PowerProtect DD: The Advantages
1) Dell Technologies updated the PowerProtect DD Series Appliances not just in name only, but hardware, capabilities, and simplified pricing.
2) Cyber Recovery Dell EMC now offers a new cyber resiliency option with PowerProtect DD that allows for a TRUE air-gapped copy of your IBM i data after you complete your backups.
3) Security PowerProtect DD has formed an alliance with Shelter Harbor and Dell EMC DD Cyber Recovery has been selected as the first Shelter Harbor Solution Provider for IBM i-based finance customers.
4) Cloud Ready Do you have a cloud-first initiative you need to meet? Have confidence that PowerProtect DD is already providing protection for 3EB of data in the cloud and has container backup capabilities. It is proven and ready for tight integration into your cloud platform.
5) Flat and Fair Maintenance Dell is striving to simplify your budgeting process with the freshly announced Flat and Fair Maintenance plan so you can know exactly what each year's maintenance will cost you upfront. This makes calculating TCO less of a hassle.
6) Migrating Off Other PBBA Platforms
Are you striving for data protection software consolidation? If so, you can leverage PowerProtect DD as your backup target for more modern backup apps, thus eliminating one-off appliances and islands of storage just for backup data.
This gives you the ability to focus on more pressing tasks, features, and functions that you need out of one backup software package.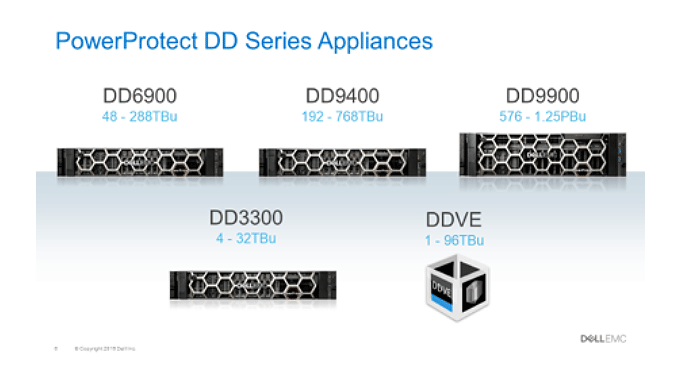 There are various PowerProtect DD models to meet your enterprise needs, from virtual appliances all the way to 1.25PB in size. Mainline can work with you to capture information to determine which is the right platform for your environment.
Summary
In today's complex world, do not wait for an event that calls for backup and disaster recovery before you decide to upgrade to the leading data protection platform, because at that point it's too late. Select the proven industry leader, Dell EMC PowerProtect Data Domain. You will achieve data protection, long-term retention, and you can connect it to cloud environments too.
Experience a Demo
Schedule a Dell EMC PowerProtect DD demo now and work with Mainline to modernize your data protection environment. With 31+ years in the industry, a nationwide presence, and ranking of #73 in Florida Trend's 225 Biggest Private Companies, we have local talent to assist you with the modernization of your data protection across x86, IBM i, and Mainframe. To schedule your demo, or to explore how PowerProtect DD can modernize your environment, contact your Mainline Account Executive directly or click here to contact us with any questions..
Related Articles
Learn About our Partnership with Dell Technologies