Tom Gardner
HPE Technologist
Amid the COVID-19 crisis, today's business climate is such that we're all working hard to sort out our options, train remote workers, learn new programs and find solutions that fit better today than possibly did yesterday or last year.
Hewlett Packard Enterprise's (HPE) GreenLake consumption model, or one of the recently announced series of initiatives to support business continuity, might be an option for you.
As an HPE Platinum Partner, Mainline is heavily invested in the solution set HPE is bringing to market today. HPE's strategy is to offer all enterprise products via an as-a-service model by the year 2022. HPE's GreenLake solution is an offering designed to help businesses tackle financial challenges. GreenLake, a consumption-based model solution, is the vehicle HPE is leveraging to meet their strategic objective. It's important to note, however, that usage-based models will NOT be the only acquisition method for HPE solutions.
What is GreenLake?
A unique and timely offering from HPE, as companies are sorting out the many financial challenges the coronavirus brings, GreenLake is a Pay per use-based offering that can be booked as either an OPEX or CAPEX. While HPE does have a strong financial arm, known as HPE Financial Services (HPEFS), which serves as its leasing operations group, GreenLake is NOT a lease option. GreenLake is a service-led experience or model that is a 100% services-based pay per use alternative to the traditional CAPEX procurement model.
Let's take a closer look at HPE GreenLake
For over 9 years, HPE has been delivering a capacity on demand or pay per use model known as Flex Capacity. With over 1000 clients and $3B in assets in the program, HPE is strategically moving toward an optional model, to bring cloud-like economics to an on-premises or hybrid IT environment. Today's business challenges are such that the benefits of pay for use models help with cash flow, align IT budgets to real consumption needs, prevent over provisioning and offer clients an on-premises or hybrid cloud model – all while bringing control over spending and compliance.
If we look at this chart below, there are several key takeaways worth noting:
The Savings curve represents why you would not overprovision with a GreenLake model; and by simply doing this, you would realize real savings plus massive cash flow benefits.
If we look at capacity ahead of demand, these events mark those upgrade trials we've all been through… requesting budgets, seeking bids, timing outages for possible interruptions, coordinating all these events into an acceptable window… typically, this represents a massive burden. All of this acquisition workload goes away with GreenLake. As a service-led model, there will be real-time metering of units used against units available and HPE Support Managers (ASM) to advise on potential needs (you can monitor as well); then, you can increase the buffer of installed resources, as needed.
Buffer – see the line floating consistently above the dark black compute needed and invoiced squiggly line… the Buffer is a pre-installed resource. It is monitored by HPE ASM, but you have full access to metered usage, as well, via a personalized portal. It also hedges against shortages, aligns to actual consumption, and assures availability to potential resource needs. The Buffer mitigates overprovisioning in a traditional procurement model, where you acquire a 3 or 5-year growth buffer upfront. GreenLake's Buffer is there as you need it, and you only pay for it if it's actually consumed.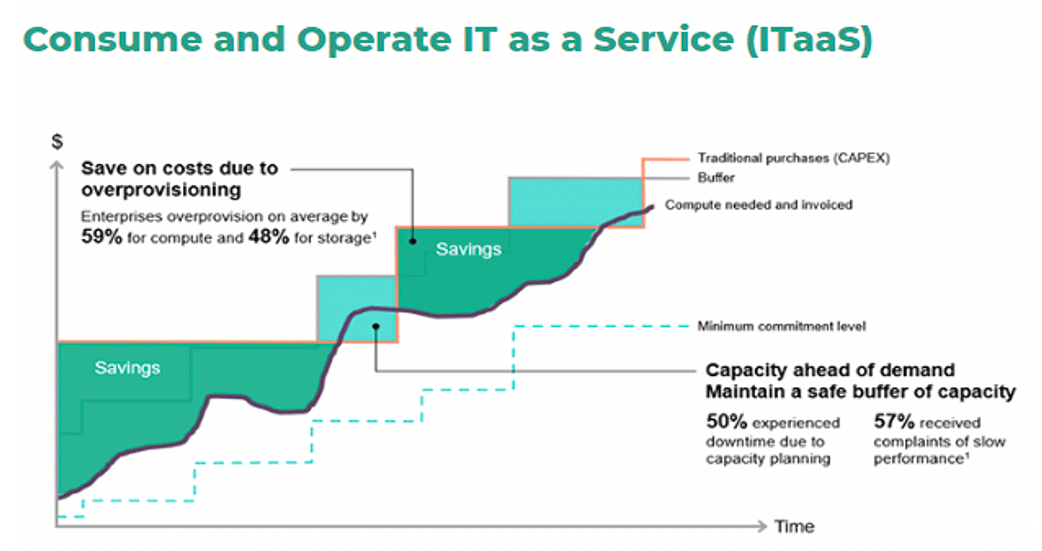 A Topical Solution in Today's COVID-19 Climate
As there are many considerations, maybe the most relevant would be cash flow savings and the basic premise that one would only pay for what is being consumed. Perhaps you were planning to upgrade a large storage array this summer, or maybe refresh a medium size VM farm? Or, were you thinking of strategically rolling out a new client-facing project that included a mix of storage, compute or networking. Well, this might prove to be the option to keep things on track. Plus, keep in mind, HPE GreenLake is not an all-or-nothing model. You may opt to consider any number of projects here, as it does not require you to commit your entire data center to participate.
Getting started could be as simple as identifying a project, a refresh or a planned solution – then, engaging Mainline for a detailed assessment and sizing. We'd want to make sure of immediate needs and any planned growth, as well as assure there is no overprovisioning included, as to realize a best-fit model.
Next, we'd select the services level you'd need to address your experience requirements, model a solution to your exact needs, and then install it… all while adding a relative buffer to accommodate the jointly concluded growth requirements.
Metering is key – you'd be provided an HPE ASM to oversee your experience. You'd also have full access to a portal to review your actual metered usage. NO secrets and NO surprises. Whatever your project entails – storage, compute, networking or any combination of these – you'd see consumption of these assets in units… could be GB's, ports or VMs… and, you'd get a monthly average unit consumption report and pay only based on that affective metering usage units.
GreenLake could be likened to many other as a service experiences we all enjoy daily, but clearly this provides an IT-based consumption model you may appreciate from a cloud vendor. There are many additional aspects to HPE GreenLake to discuss, including the new processes and value points recently added to the 3.0 model.
More Information
For more information, visit our HPE GreenLake page, request a briefing, contact your Mainline Account Representation directly, or click here to contact us with any questions.
Related articles and videos:
Article: Read more from HPE's Vice President and General Manager, Gerald Kleyn about HPE's Covid-19 solutions.